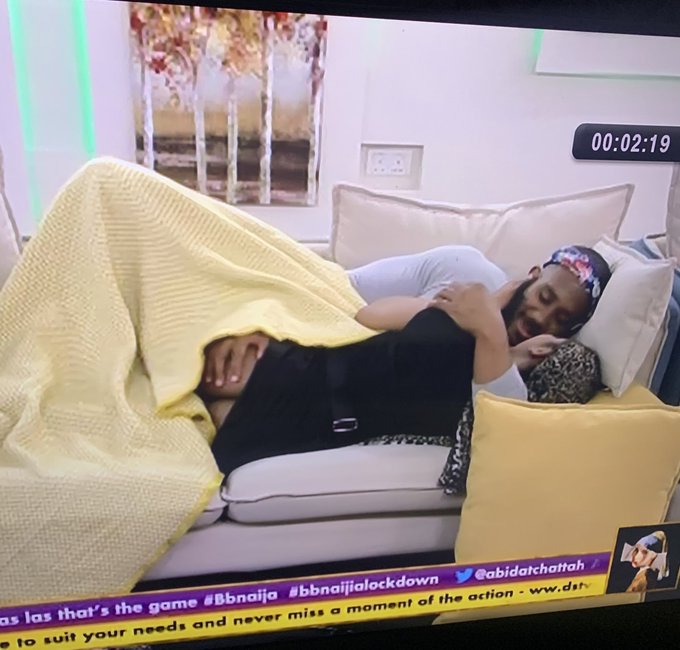 BBNaija 2020: Kiddwaya caught kissing and fondling Erica's bum (Video)
In the wake of Laycon's confession of love to Erica that he likes her, another video has emerged on social media captured Kiddwaya kissing Erica passionately and at same time fondling her bum. The camera exposed Erica's bum without pants while Kidd is fondling it and telling the love-bird some sweet things.
Watch the video and reactions below;
ERICA: What do you like about me?
KIDD: I like your complexion, I like the way you dress, how abition you are, your bear-bear. You're good and you're bad at the same time, there's an energy I get and I love it.
(…wardrobe malfunction during the kiss?👀) #BBNaija pic.twitter.com/lvtDXMrksh

— DRACONIS (@la_ghivver) August 2, 2020
One of Laycon's fan suggested that he should forget about Erica who seem to find a place in Kidd's heart.
See watin Kidd dey do Erica yansh. Laycon should please forget this battle #BBNaija pic.twitter.com/8NrKZQwUam

— Tonero D Statesman (@Orhiei) August 2, 2020
Kidd: Do you like small guys?
Erica: No. I like to feel like a baby around my guy.

Kidd just referred to Laycon, weyrey ni bobo yii mehn

Kidd will suffer for 600years for calling Laycon a small guy#BBNaija pic.twitter.com/TF8nKiHp6X

— ♥ OLA ♥ #BBNaija (@Olafweshy) August 2, 2020
#BBNaija
Brighto: Laycon I no suppose tell you this thing but Erica dey kiss Kidd outside. pic.twitter.com/xZShwDEJAc

— Sapphire™🔥 (@_just_sapphire) August 2, 2020
@KingJulie14: I don't understand.Are you guys mad over the fact that Erica let Kidd touch her ass when she thought the blanket was covering herCat face with wry smile🤷🏿‍♀️or are you guys mad bcz she kissed Kidd and not your LayconCat face with tears of joy.Balance me real quickly.And what if she's wearing a g-string?#Bbnaija
@DragonflyJonez: Mark Jackson heaping a ton of credit on Kidd for Giannis' handles. Mark takes every opportunity he can to make sure we give credit to coaches who helped develop teams/players before getting fired. I wonder why
@la_ghivver: ERICA: I like to cause pain
KIDD: Yeah, and I know you like to feel pain too
ERICA: Next Saturday, I'm going to dress like a dominatrix in a bright red leather dress. What's your favourite colour?
KIDD: That's gonna be sexy as f***
I like red too. You're naughty
ERICA: I like to cause pain
KIDD: Yeah, and I know you like to feel pain too
ERICA: Next Saturday, I'm going to dress like a dominatrix in a bright red leather dress. What's your favourite colour?
KIDD: That's gonna be sexy as f***
I like red too. You're naughty
#BBNaija pic.twitter.com/Mx3n9qEEB7

— DRACONIS (@la_ghivver) August 2, 2020