Live Streaming
MFM Sunday Service 25th October 2020 by Dr D.K Olukoya – LIVESTREAM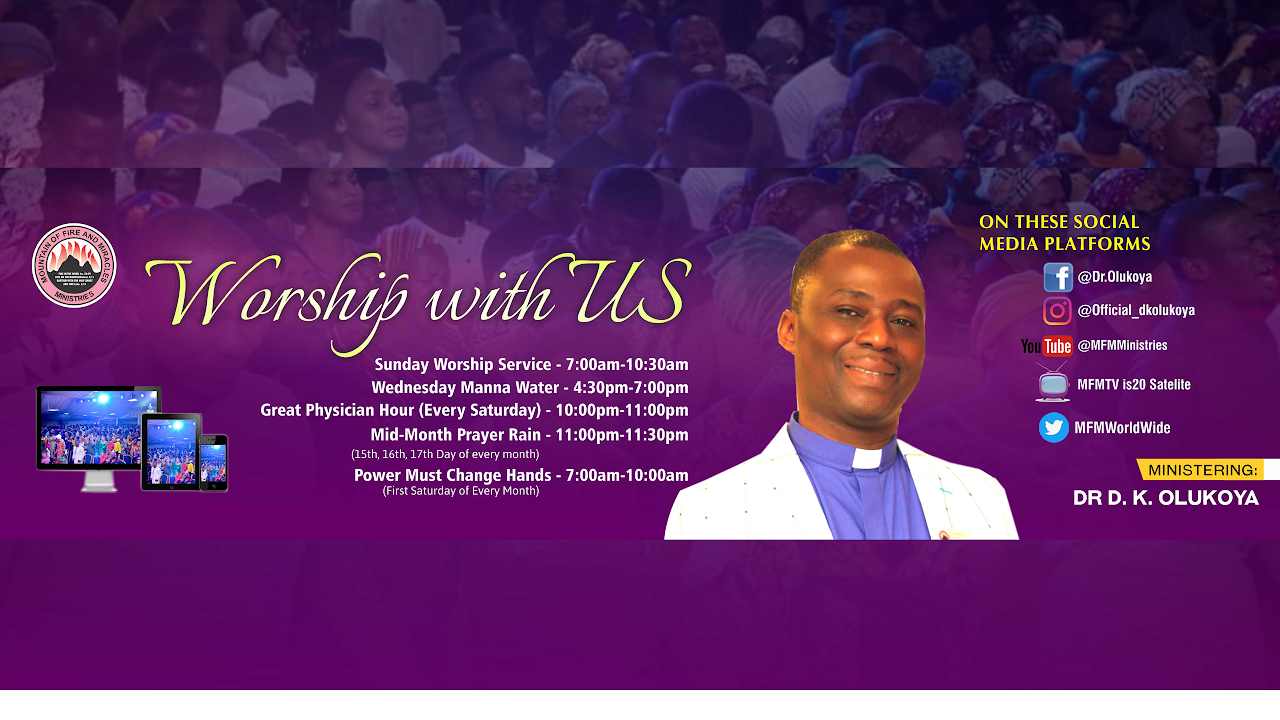 MFM Sunday Service 25th October 2020 by Dr D.K Olukoya – LIVESTREAM
You are watching Mountain of Fire Ministries MFM Sunday Live Service at 7:00 am with Pastor D. K. Olukoya.
MARATHON OCEAN DIVIDING PRAYERS 25TH OCTOBER 2020 MINISTERING: DR D.K. OLUKOYA (G.O MFM WORLDWIDE)
Watch below;
PLEASE RELOAD FOR SUNDAY LIVE BROADCAST
MFM Sunday Service 25th October 2020 by Dr D.K Olukoya – LIVESTREAM
Please kindly share with other people to be part of this extraordinary LIVE service.
TOPIC: EVIL CONSUMPTION
Fire Scripture: 1 Cor. 10:18-23
TODAY'S OUTLINE: MFM Daily Devotional Sunday 25th October 2020
The problem of evil consumption is what we are addressing in today's devotional. Sometime ago, we held a revival service in a church and when an altar call was made to those who wanted to receive the baptism of the Holy Spirit, I saw a dear old woman who came crying and saying that she could not understand why it was difficult for her to receive the baptism even after many revivalists had visited her church.
So, I said, "Madam, you will be filled with the power today." She said, "Thank you my son. I will try." I told her to pray and she prayed until she was sweating. Her clothes were soaked. I was impressed with her prayers, yet nothing happened. I could only get impressed, but I am not the giver of the Holy Spirit. At a stage, I left her alone and sat somewhere else to pray.
I asked the Lord what was wrong with her and the Lord. I discovered that something was wrong somewhere. Once you consume something from the table of the devil, you would be wrestling with shadows and won't know what you are fighting against, unless you are purged.
The reason is that what you are fighting against is inside your body, while you are thinking that it is one old woman or one relative somewhere that is responsible for your problem.
Sunday MFM Daily Devotional Sunday 25th October 2020
The thing has already been deposited inside; and you are going around with it. Anybody who kills any animal or bird after Jesus had done the supreme sacrifice of his death on the cross is sacrificing to the devil, and those who eat the sacrifice meat are eating from the table of the devil." The scripture is very clear on this.
It can be very frustrating when somebody is fighting an external force and the problem is internal. It can also be very frustrating when somebody has a physical object in his possession, which is the vehicle of his problem and he does not know. Sometime ago, we prayed for a sister and the demon spirit that spoke from her said, "Well, ask her to bring the cloth we gave to her." The sister brought the cloth, and it was destroyed. It was only after this that she regained her freedom.
It means that, as long as she had that cloth in her possession, she could sing all the praise worship songs in this planet, and also read all the psalms, but there would be no freedom for her. You must not be among those who are partakers of evil altars. Deal with evil alters. Your deliverance is sure.
CONTINUE READING MFM SUNDAY 25TH OCTOBER 2020 DAILY DEVOTIONAL