Live Streaming
Catholic Sunday Mass 11th October 2020 Today Live Online – Livestream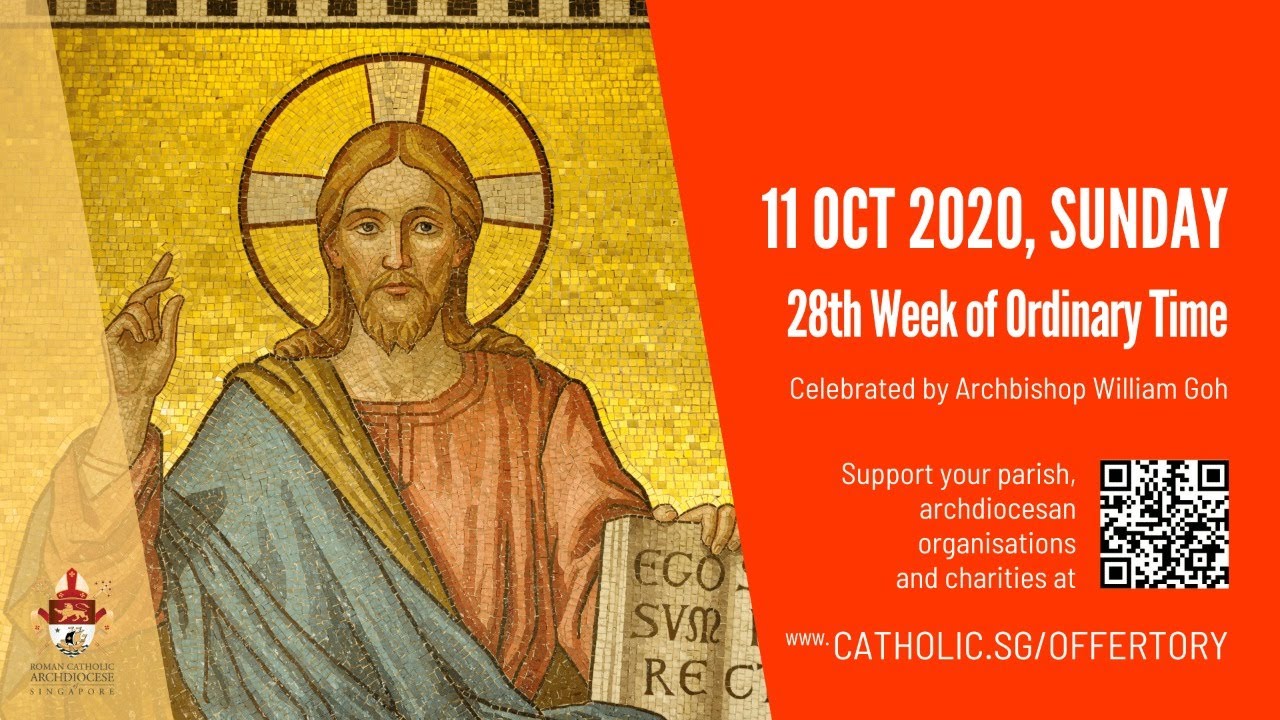 Catholic Sunday Mass 11th October 2020 Today Live Online – Livestream
You are watching Livestreaming from Roman Catholic Archdiocese of Singapore
THE JOY OF BEING A CHRISTIAN Sunday, 28th Week of Ordinary Time 2020 (11th October 2020)
Mass Celebrated by Archbishop William Goh.
The Catholic Mass today is celebrated all around the world. Here in Singapore, we are pleased to provide online, daily Catholic Mass live or recorded in English to all Catholics and anyone interested in the Catholic faith. During Catholic Masses, it is not uncommon to hear a homily about Catholic teachings and Catholic answers to life's questions. The Holy Mass is beautiful and stems from Jesus. Expect Catholic prayers, Catholic hymns (Christian songs) that come from 2000 years of tradition and practice. All are welcome.
Catholic Sunday Mass 11th October 2020 Today Live Online – Livestream
Sunday Catholic Daily Mass 11th October 2020 – 27th Sunday of Ordinary Time
First Reading: Isaiah 25: 6-10a
6 And the Lord of hosts shall make unto all people in this mountain, a feast of fat things, a feast of wine, of fat things full of marrow, of wine purified from the lees.
7 And he shall destroy in this mountain the face of the bond with which all people were tied, and the web that he began over all nations.
8 He shall cast death down headlong for ever: and the Lord God shall wipe away tears from every face, and the reproach of his people he shall take away from off the whole earth: for the Lord hath spoken it.
9 And they shall say in that day: Lo, this is our God, we have waited for him, and he will save us: this is the Lord, we have patiently waited for him, we shall rejoice and be joyfull in his salvation.
10 For the hand of the Lord shall rest in this mountain: and Moab shall be trodden down under him, as straw is broken in pieces with the wain.
Responsorial Psalm: Psalms 23: 1-3a, 3b-4, 5, 6 (6cd)
1 A psalm for David. The Lord ruleth me: and I shall want nothing.
2 He hath set me in a place of pasture. He hath brought me up, on the water of refreshment:
3 He hath converted my soul. He hath led me on the paths of justice, for his own name's sake.
4 For though I should walk in the midst of the shadow of death, I will fear no evils, for thou art with me. Thy rod and thy staff, they have comforted me.
5 Thou hast prepared a table before me against them that afflict me. Thou hast anointed my head with oil; and my chalice which inebriateth me, how goodly is it!
6 And thy mercy will follow me all the days of my life. And that I may dwell in the house of the Lord unto length of days.
(6cd And that I may dwell in the house of the Lord unto length of days.)