Live Streaming
MFM Sunday Service 6th September 2020 by Dr D. K. Olukoya – Livestream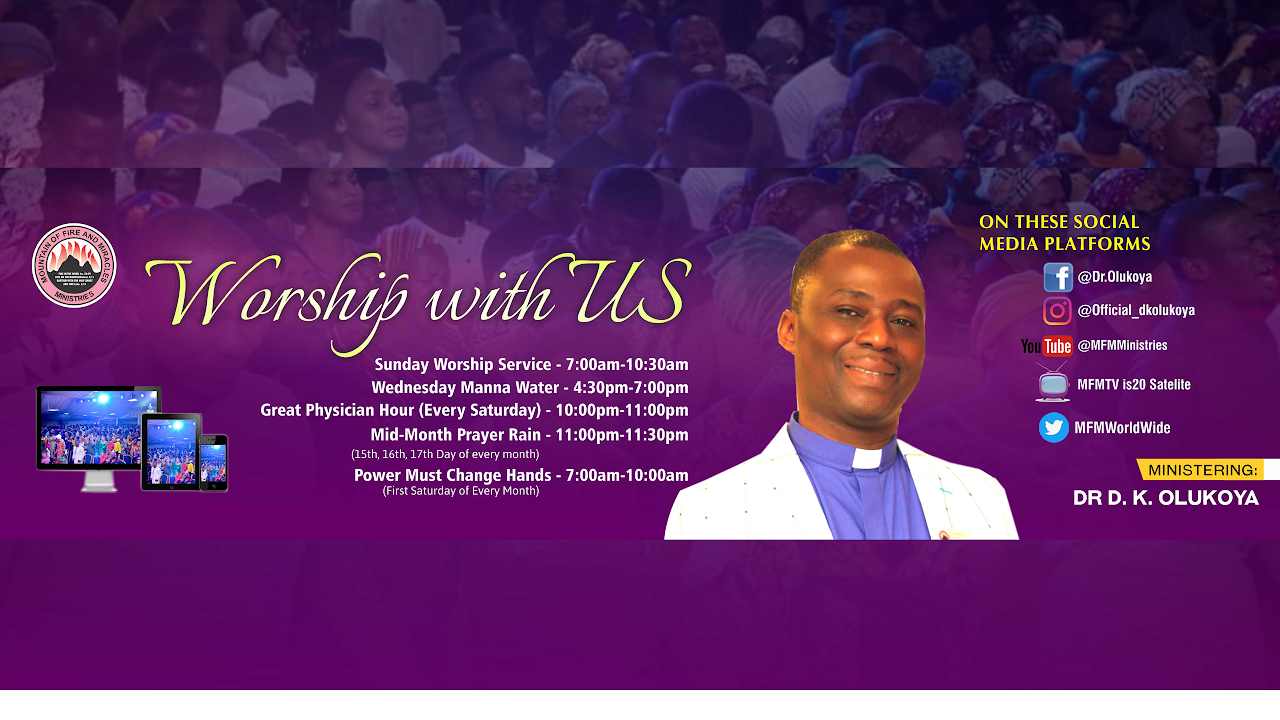 MFM Sunday Service 6th September 2020 by Dr D. K. Olukoya – Livestream
You are watching Mountain of Fire Ministries MFM Sunday Live Service at 7:00 am with Pastor D. K. Olukoya.
MARATHON OCEAN DIVIDING PRAYERS 06 SEPTEMBER 2020 MINISTERING: DR D.K. OLUKOYA(G.O MFM WORLDWIDE)
Watch below;
PLEASE RELOAD FOR SUNDAY LIVE BROADCAST
MFM Sunday Service 6th September 2020 by Dr D. K. Olukoya – Livestream
Please kindly share with other people to be part of this extraordinary LIVE service.
TODAY'S TOPIC: NO GREATER POWER
Fire Scripture: Mark 9:15-27
TODAY'S OUTLINE: MFM DAILY DEVOTIONAL 6TH SEPTEMBER 2020
God's power is incomparable. Our God is greater than the greatest.
Sometime ago, the daughter of a certain sister had mental problem. She was very wild. She took her to the hospital where she was given a special room because the drugs were not working. She bounced on anybody who tried to enter into the room.
One day, the sister listened to a message entitled, "You, the sleeping giant, stir up yourself." After listening to the message, she went to the hospital and asked to see her daughter. They told her to talk to her from the window.
She said no, that she would like to enter the room. She entered and when the daughter saw her, she became wild. But the sister said, "In the name of Jesus, you wild beast, come out of her now." It was as if she gave a punch to the girl. She fell down and straightaway she said, "Mummy."
She became calm as she was delivered from the evil spirit troubling her. The sister was shocked that she could do it. God will not commit Himself to those who would just sit down at home, or to men who after Sunday service, would sit down at home and watch television, who are not interested in house fellowship or group activities.
CONTINUE READING MFM 6TH SEPTEMBER 2020 DAILY DEVOTIONAL