Live Streaming
MFM Special Manna Water Service 2nd September 2020 Wednesday Livestreaming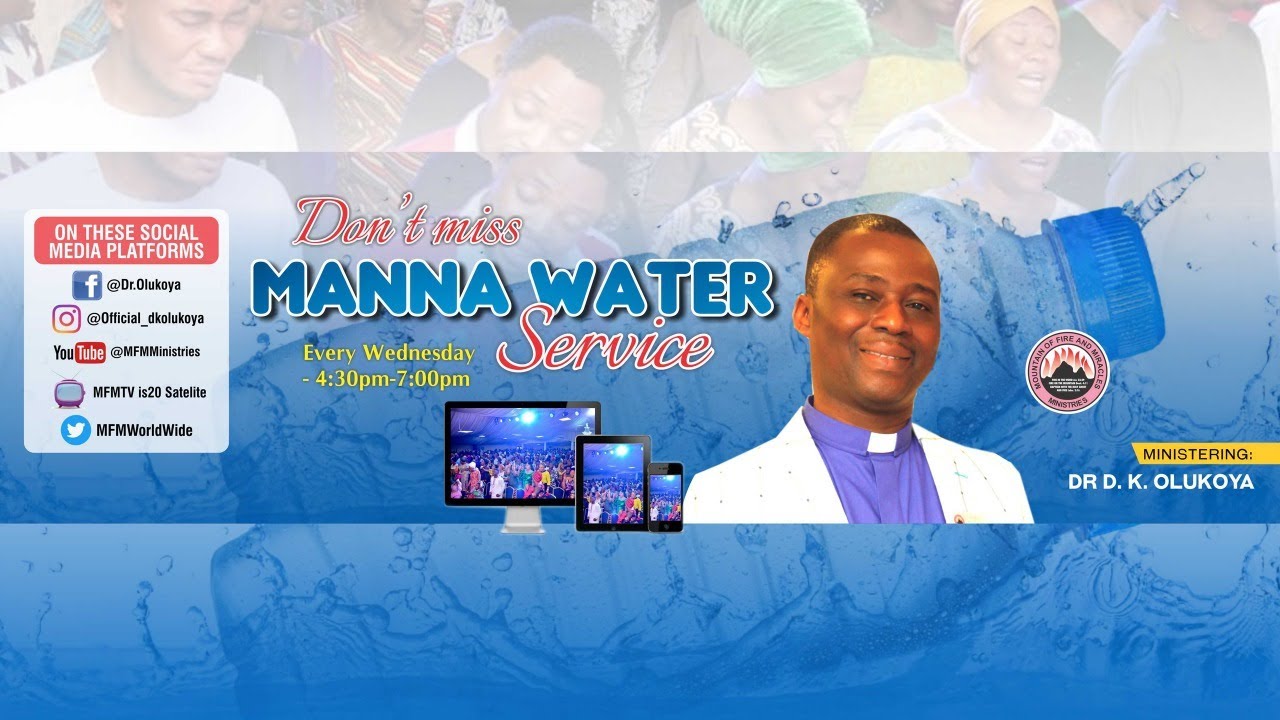 MFM Special Manna Water Service 2nd September 2020 Wednesday Livestreaming
You are watching Today's Mountain of Fire MFM Special Manna Water Service 2 September 2020 Wednesday by Dr. D. K. Olukoya.
Welcome to MFM SPECIAL MANNA WATER SERVICE WEDNESDAY SEPTEMBER 2ND 2020 MINISTERING: DR D.K. OLUKOYA (G.O MFM WORLDWIDE)
Watch below;
MFM Special Manna Water Service 2nd September 2020 Wednesday
Please kindly share with other people to be part of this extraordinary LIVE service.
TODAY'S TOPIC: TIMELESS TESTIMONIES
Memory Verse: Isaiah 22:13 "And behold joy and gladness, slaying oxen, and killing sheep, eating flesh, and drinking wine: let us eat and drink; for tomorrow we shall die."
Motivational Quote: Ability can get you to the top but it takes character to keep you there.
Prophetic Word: You shall not do your praying at the time the prayer won't be accepted, in the name of Jesus.
Fire Scripture: Acts 15:26; 17:6
Acts 15:26
men who have risked their lives for the name of our Lord Jesus Christ.
Acts 17:6
But when they did not find them, they dragged Jason and some brethren to the rulers of the city, crying out, "These who have turned the world upside down have come here too.
OUTLINE: MFM Daily Devotional 2nd September 2020
Testimonies are part of what brings joy to God's people. When you truly demonstrate God's power, you will come up with unchallengeable testimonies. To provoke your testimonies, you must be ready to take Holy risks.
Sometime ago, a group of evangelists went out to preach in a place where there were lots of satanic strongholds. They went to the first man and said, "We have come to talk to you about Jesus." He said, "Jesus? I am coming." By the time he came back, the first evangelist had dropped his Bible and had slept off.
And before you know it, all the evangelists had fallen down and had slept off. The man then woke up the evangelists and said, "Don't come here again," and he drove them away. They quickly picked up their Bibles and ran away, totally embarrassed. Now, those were people who were supposed to be Holy Ghost-filled.