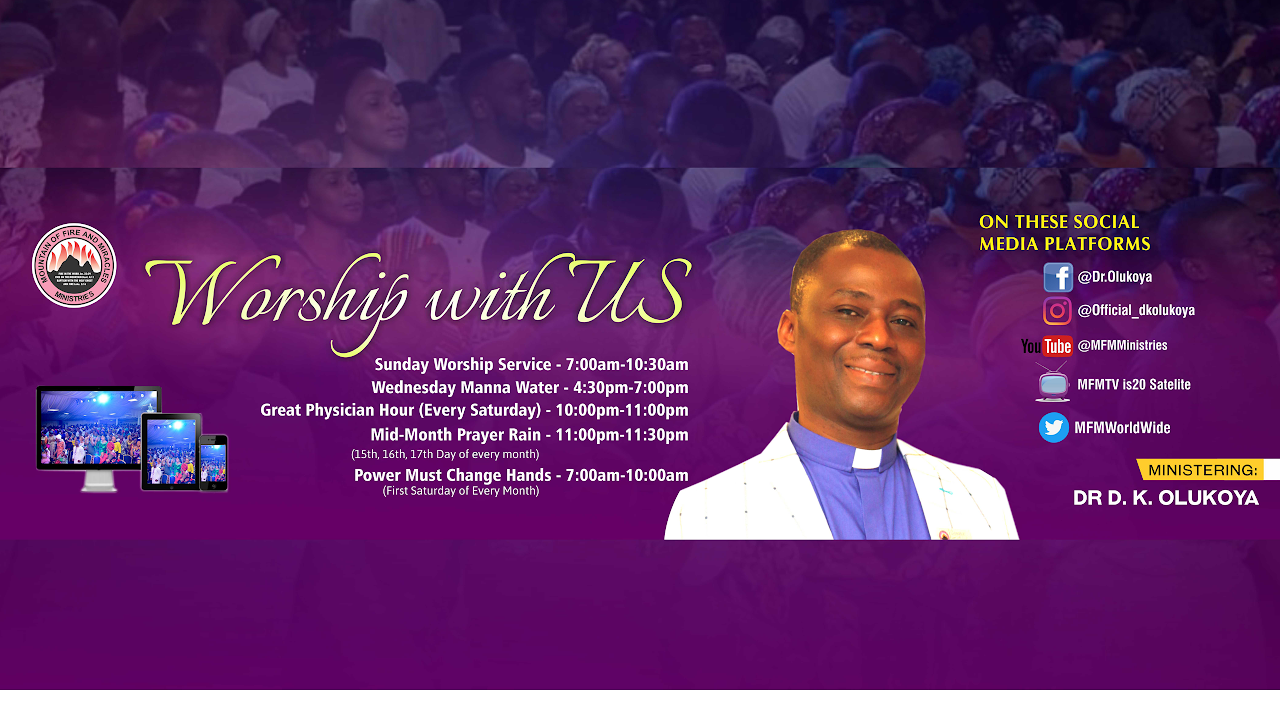 MFM Prayer Rain 18th September 2020 by Dr D. K. Olukoya
Prayer Rain is a weekly program held every Friday at MFM Prayer City EXCEPT the Friday preceding Power Must Change Hands. Join us for all of May's Prayer Rain services as we rain acidic prayers upon every stubborn problems in our lives.
In this week's edition of Prayer Rain, an anointed man of God will be ministering live and calling those things which be not as though they were. Don't miss it!
Watch Here;
MFM Prayer Rain 18th September 2020 by Dr D. K. Olukoya
TODAY'S TOPIC: POWER OVER SATANIC WEAPONS
Fire Scripture: Isaiah 54:14-17
TODAY'S OUTLINE: MFM Daily Devotional 18th September 2020
You do not have to tell the enemy to refrain from making use of satanic weapons. When weapons are set in motion against the children of God, as a matter of necessity, the weapons fall back upon the forces that set them in motion. People's hair or parts of the body could be cut off. Spiritual or physical snakes could be sent to someone. These are wicked arrows.
A sister gave a testimony that somebody told her that if she got promoted to a particular post, she would not live to enjoy the position. She thought it was a joke. As she was drinking tea one morning, she felt something cold on her legs. When she looked at the object, it was a big snake. She called in her messenger who was a huge and strong man. But when he entered and saw the serpent already coiled around her legs, he ran out.
At that stage, the woman knew that she was on her own. Then, she prayed one prayer point: "You evil serpent, be electrocuted! In Jesus' name." As she said the prayer, suddenly, she saw fear in the eyes of the snake. What happened next was that it stretched itself out and died. If that sister had not known what to do, she would have died before her time.
It could be heat in the head. If you experience such a heat, please, do not take it lightly and say that it would go. Even if it would go, deal with it first! There is no harm in doing that. People being fed with food in the dream with what they would not ordinarily eat are being attacked with a wicked stone.
Having sexual intercourse with the opposite sex in the dream is the effect of an arrow of the wicked. Receiving emergency false alarm from home that a close relative is dying, only to be told on getting home that nobody was dying, but that they used that method to get you to come to the village because they had not seen you in a very long time is also the impact of an arrow of the wicked, against you which need to pray.
Beloved, thou shall be far from oppression. Fear and terror shall not be your lot.
Memory Verse: 1 Corinthians 2:10 "But God hath revealed them unto us by his Spirit: for the Spirit searcheth all things, yea, the deep things of God."
Motivational Quote: The enemy that surrounds you at the moment are instruments in the house of God to keep you alert and challenge you to use the weapons God has given to you.
Prophetic Word: If the Lord be with you, His anointing shall over shadow your life, you shall go from strength to strength, you shall go from glory to glory. CONTINUE READING>>>