Live Streaming
Catholic Today Mass 18th September 2020 Online – 24th Week of Ordinary Time 2020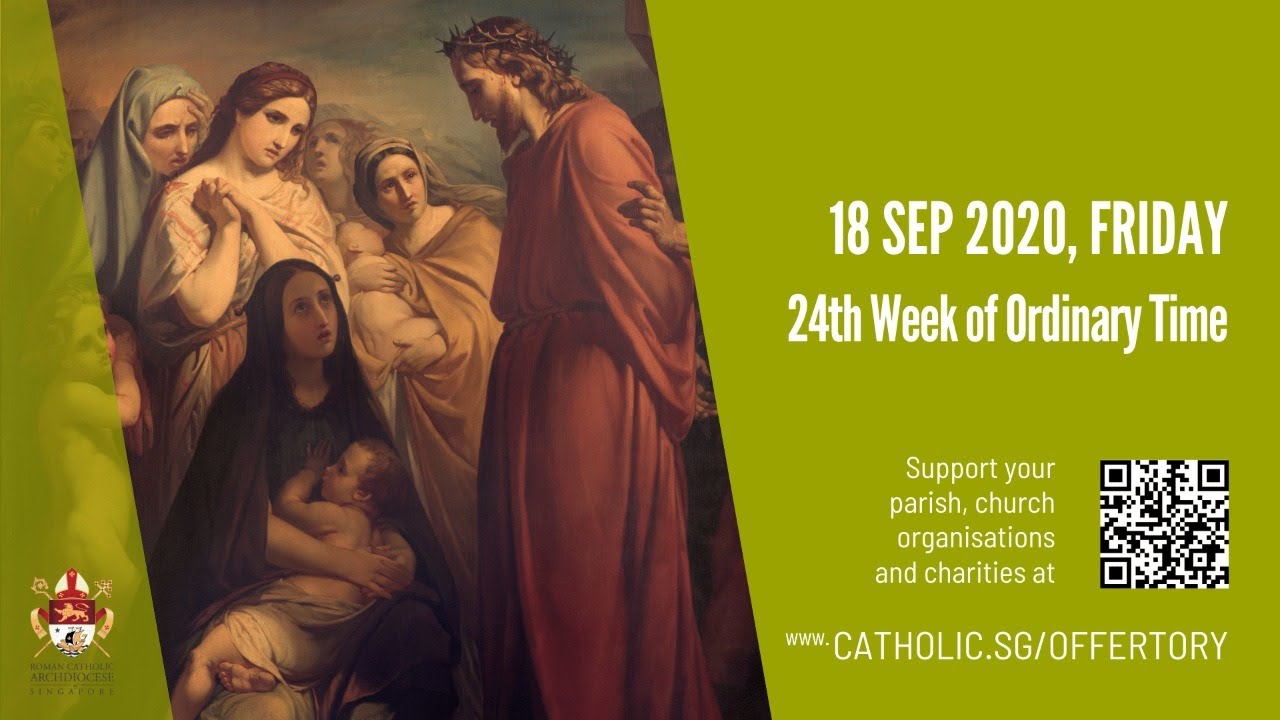 Catholic Today Mass 18th September 2020 Online – 24th Week of Ordinary Time 2020
You are watching Today Daily Mass Live from Roman Catholic Archdiocese of Singapore
THE PLACE OF WOMEN IN THE CHURCH
Friday, 24th Week of Ordinary Time 2020 (18th September 2020)
The Catholic Mass today is celebrated all around the world. Here in Singapore, we are pleased to provide online, daily Catholic Mass live or recorded in English to all Catholics and anyone interested in the Catholic faith. During Catholic Masses, it is not uncommon to hear a homily about Catholic teachings and Catholic answers to life's questions. The Holy Mass is beautiful and stems from Jesus. Expect Catholic prayers, Catholic hymns (Christian songs) that come from 2000 years of tradition and practice. All are welcome.
Catholic Today Mass 18th September 2020 Online – 24th Week of Ordinary Time 2020
Watch below;

MASS READINGS:
• First Reading: 1 Corinthians 15:12-20
• Responsorial Psalm: Psalm 16(17):1,6-8,15 ("I shall be filled, when I awake, with the sight of your glory, O Lord.")
• Gospel: Luke 8:1-3
First Reading: First Corinthians 15: 12-20
12 Now if Christ be preached, that he arose again from the dead, how do some among you say, that there is no resurrection of the dead?
13 But if there be no resurrection of the dead, then Christ is not risen again.
14 And if Christ be not risen again, then is our preaching vain, and your faith is also vain.
15 Yea, and we are found false witnesses of God: because we have given testimony against God, that he hath raised up Christ; whom he hath not raised up, if the dead rise not again.
16 For if the dead rise not again, neither is Christ risen again.
Catholic Daily Mass Readings 18th September 2020 Today Friday
17 And if Christ be not risen again, your faith is vain, for you are yet in your sins.
18 Then they also that are fallen asleep in Christ, are perished.
19 If in this life only we have hope in Christ, we are of all men most miserable.
20 But now Christ is risen from the dead, the firstfruits of them that sleep: CONTINUE READING>>>