Live Streaming
Catholic Monday Mass 14th September 2020 Today Online – The Exaltation of the Holy Cross 2020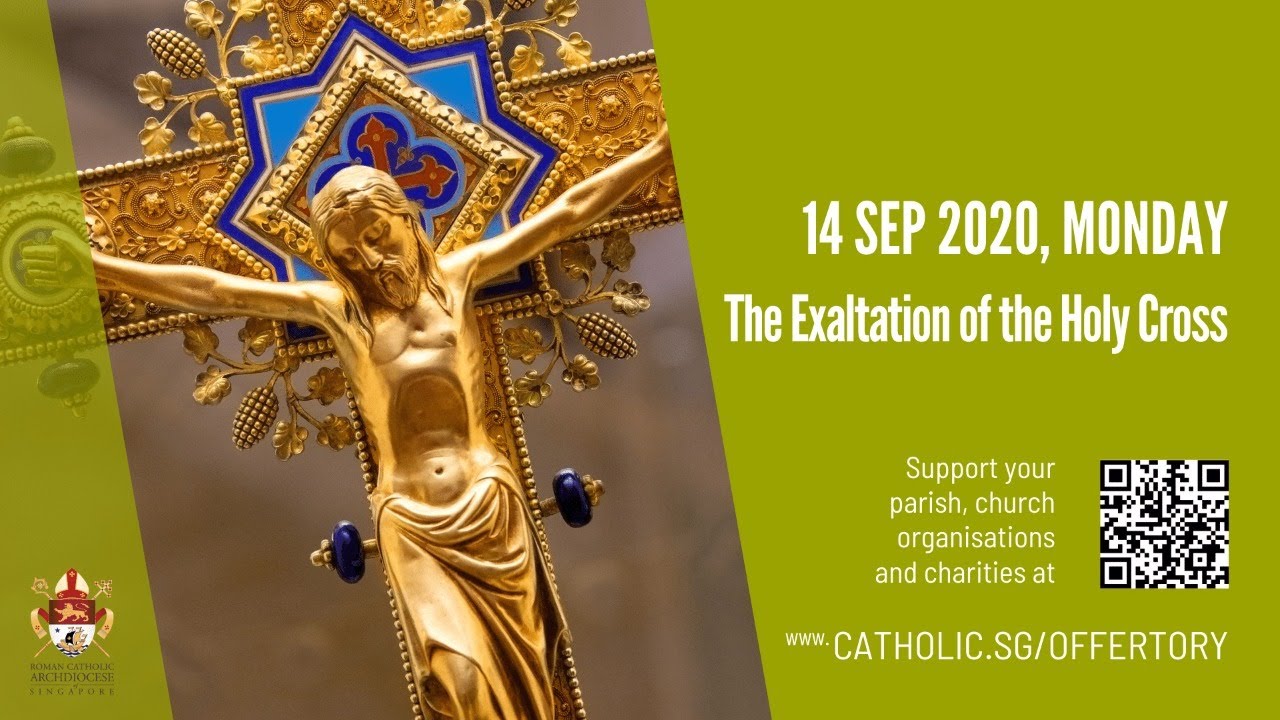 Catholic Monday Mass 14th September 2020 Today Online – The Exaltation of the Holy Cross 2020
You are watching Today's Mass Online For 14 September 2020 Live From Roman Catholic Archdiocese of Singapore
Monday, The Exaltation of the Holy Cross 2020 (14th September 2020)
Mass Celebrated by Fr Luke Fong
The Catholic Mass today is celebrated all around the world. Here in Singapore, we are pleased to provide online, daily Catholic Mass live or recorded in English to all Catholics and anyone interested in the Catholic faith. During Catholic Masses, it is not uncommon to hear a homily about Catholic teachings and Catholic answers to life's questions. The Holy Mass is beautiful and stems from Jesus. Expect Catholic prayers, Catholic hymns (Christian songs) that come from 2000 years of tradition and practice. All are welcome.
Watch below;

Catholic Monday Mass 14th September 2020 Today Online – The Exaltation of the Holy Cross 2020
MASS READINGS:
• First Reading: Numbers 21:4-9
• Responsorial Psalm: Psalm 77(78):1-2,34-38 ("Never forget the deeds of the Lord.")
• Gospel: John 3:13-17
First Reading: Numbers 21: 4b-9
4 And they marched from mount Hor, by the way that leadeth to the Red Sea, to compass the land of Edom. And the people began to be weary of their journey and labour:
5 And speaking against God and Moses, they said: Why didst thou bring us out of Egypt, to die in the wilderness? There is no bread, nor have we any waters: our soul now loatheth this very light food.
6 Wherefore the Lord sent among the people fiery serpents, which bit them and killed many of them.
7 Upon which they came to Moses, and said: We have sinned, because we have spoken against the Lord and thee: pray that he may take away these serpents from us. And Moses prayed for the people.
8 And the Lord said to him: Make brazen serpent, and set it up for a sign: whosoever being struck shall look on it, shall live.
9 Moses therefore made a brazen serpent, and set it up for a sign: which when they that were bitten looked upon, they were healed.
Responsorial Psalm: Psalms 78: 1bc-2, 34-35, 36-37, 38
1 Understanding for Asaph. Attend, O my people, to my law: incline your ears to the words of my mouth.
2 I will open my mouth in parables: I will utter propositions from the beginning.
34 When he slew them, then they sought him: and they returned, and came to him early in the morning.
35 And they remembered that God was their helper: and the most high God their redeemer.
36 And they loved him with their mouth: and with their tongue they lied unto him:
37 But their heart was not right with him: nor were they counted faithful in his covenant.
38 But he is merciful, and will forgive their sins: and will not destroy them. And many a time did he turn away his anger: and did not kindle all his wrath. CONTINUE READING>>>