Live Streaming
Catholic Mass Today 17th September 2020 Online 24th Week of Ordinary Time 2020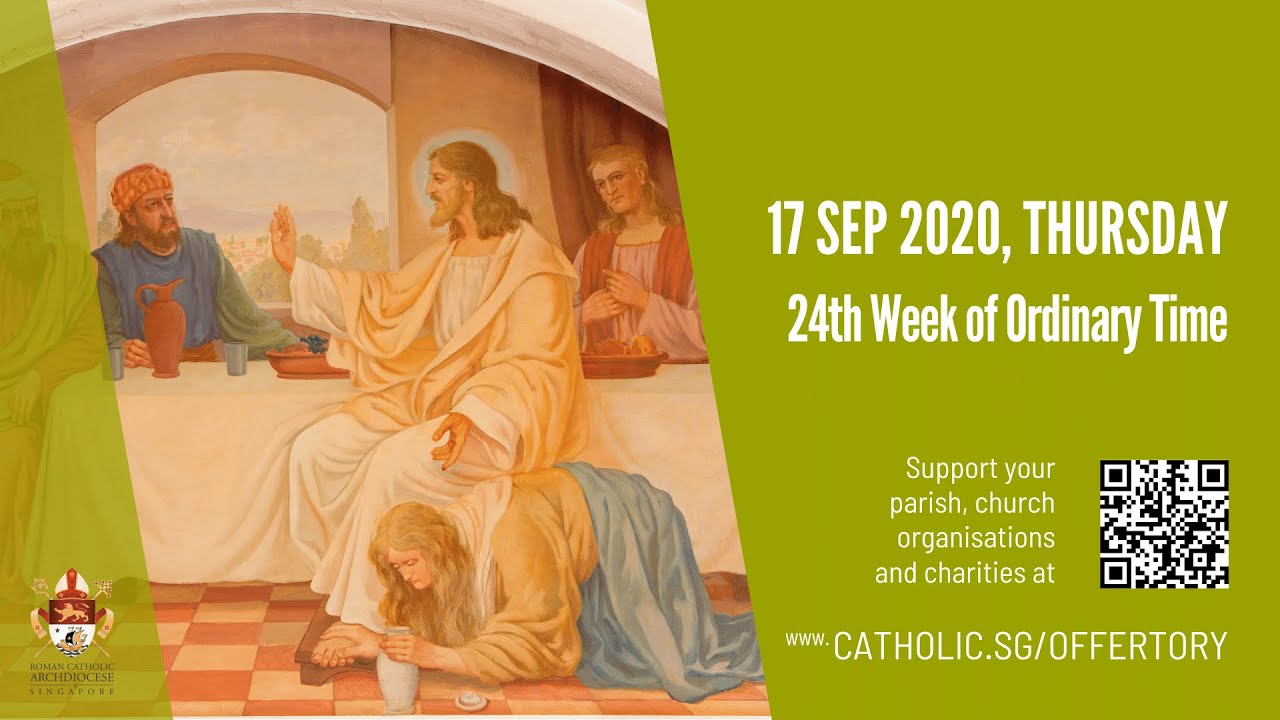 Catholic Mass Today 17th September 2020 Online 24th Week of Ordinary Time 2020
You are watching Today Thursday Mass 17th September 2020 LIVE from Roman Catholic Archdiocese of Singapore.
ACT OF PERFECT CONTRITION
Thursday, 24th Week of Ordinary Time 2020 (17th September 2020)
The Catholic Mass today is celebrated all around the world. Here in Singapore, we are pleased to provide online, daily Catholic Mass live or recorded in English to all Catholics and anyone interested in the Catholic faith. During Catholic Masses, it is not uncommon to hear a homily about Catholic teachings and Catholic answers to life's questions. The Holy Mass is beautiful and stems from Jesus. Expect Catholic prayers, Catholic hymns (Christian songs) that come from 2000 years of tradition and practice. All are welcome.
Watch below;
Catholic Mass Today 17th September 2020 Online 24th Week of Ordinary Time 2020

MASS READINGS:
• First Reading: 1 Corinthians 15:1-11
• Responsorial Psalm: Psalm 117(118):1-2,15-17,28 ("Give thanks to the Lord for he is good.")
• Gospel: Luke 7:36-50
First Reading: First Corinthians 15: 1-11
1 Now I make known unto you, brethren, the gospel which I preached to you, which also you have received, and wherein you stand;
2 By which also you are saved, if you hold fast after what manner I preached unto you, unless you have believed in vain.
3 For I delivered unto you first of all, which I also received: how that Christ died for our sins, according to the scriptures:
4 And that he was buried, and that he rose again the third day, according to the scriptures:
5 And that he was seen by Cephas; and after that by the eleven.
6 Then he was seen by more than five hundred brethren at once: of whom many remain until this present, and some are fallen asleep.
7 After that, he was seen by James, then by all the apostles.
8 And last of all, he was seen also by me, as by one born out of due time.
9 For I am the least of the apostles, who am not worthy to be called an apostle, because I persecuted the church of God.
10 But by the grace of God, I am what I am; and his grace in me hath not been void, but I have laboured more abundantly than all they: yet not I, but the grace of God with me.
11 For whether I, or they, so we preach, and so you have believed. CONTINUE READING>>>