Live Streaming
Catholic Mass 8th September 2020 Today Tuesday Online – Birthday of the Blessed Virgin Mary – Live From Singapore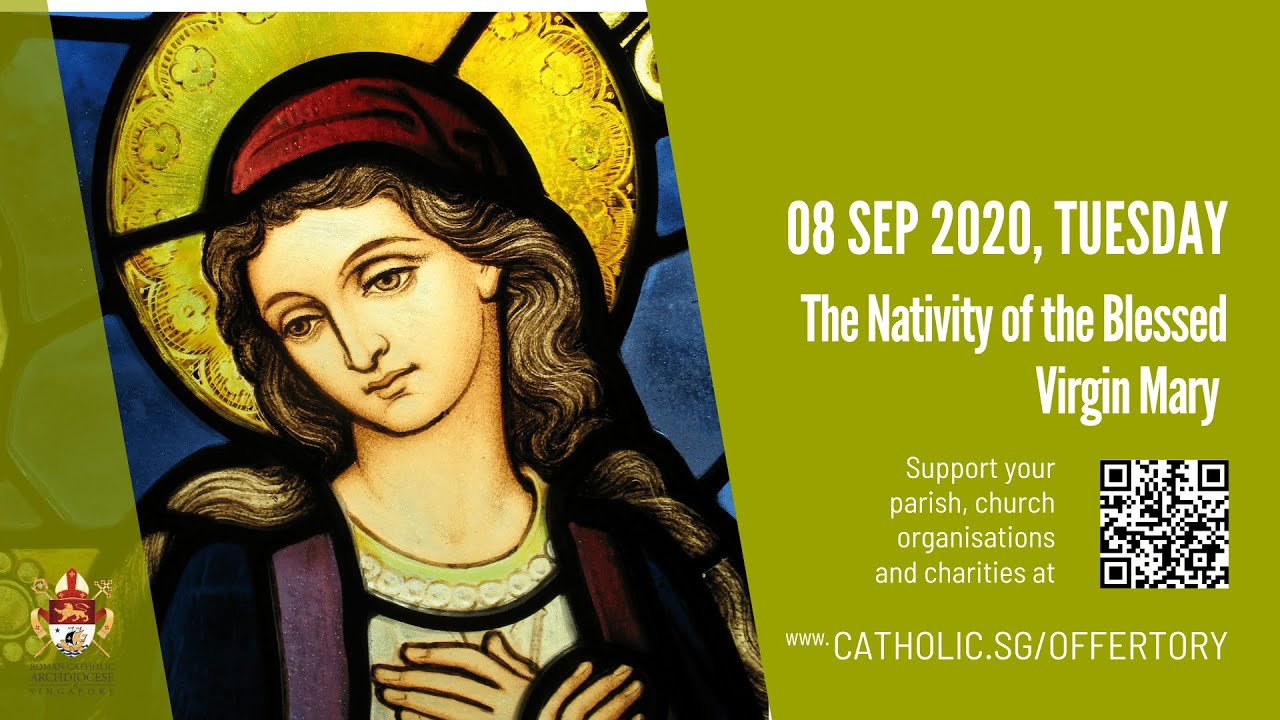 Catholic Mass 8th September 2020 Today Tuesday Online – Birthday of the Blessed Virgin Mary – Live From Singapore
PREDESTINATION
Tuesday, Birthday of the Blessed Virgin Mary 2020 (8th September 2020)
The Catholic Mass today is celebrated all around the world. Here in Singapore, we are pleased to provide online, daily Catholic Mass live or recorded in English to all Catholics and anyone interested in the Catholic faith. During Catholic Masses, it is not uncommon to hear a homily about Catholic teachings and Catholic answers to life's questions. The Holy Mass is beautiful and stems from Jesus. Expect Catholic prayers, Catholic hymns (Christian songs) that come from 2000 years of tradition and practice. All are welcome.
Watch below;
Catholic Mass 8th September 2020 Today Tuesday Online – Birthday of the Blessed Virgin Mary – Live From Singapore
MASS READINGS:
• First Reading: Micah 5:1-4
• Responsorial Psalm: Psalm 12(13):6-7 ("I exult for joy in the Lord.")
• Gospel: Matthew 1:1-16,18-23
First Reading: Micah 5: 1-4a or Romans 8: 28-30
1 Now shalt thou be laid waste, O daughter of the robber: they have laid siege against us, with a rod shall they strike the cheek of the judge of Israel.
2 AND THOU, BETHLEHEM Ephrata, art a little one among the thousands of Juda: out of thee shall he come forth unto me that is to be the ruler in Israel: and his going forth is from the beginning, from the days of eternity.
3 Therefore will he give them up even till the time wherein she that travaileth shall bring forth: and the remnant of his brethren shall be converted to the children of Israel.
4 And he shall stand, and feed in the strength of the Lord, in the height of the name of the Lord his God: and they shall be converted, for now shall he be magnified even to the ends of the earth.
or
28 And we know that to them that love God, all things work together unto good, to such as, according to his purpose, are called to be saints.
29 For whom he foreknew, he also predestinated to be made conformable to the image of his Son; that he might be the firstborn amongst many brethren.
30 And whom he predestinated, them he also called. And whom he called, them he also justified. And whom he justified, them he also glorified. CONTINUE READING>>>