Live Streaming
Catholic Mass 7th September 2020 For Monday Today Online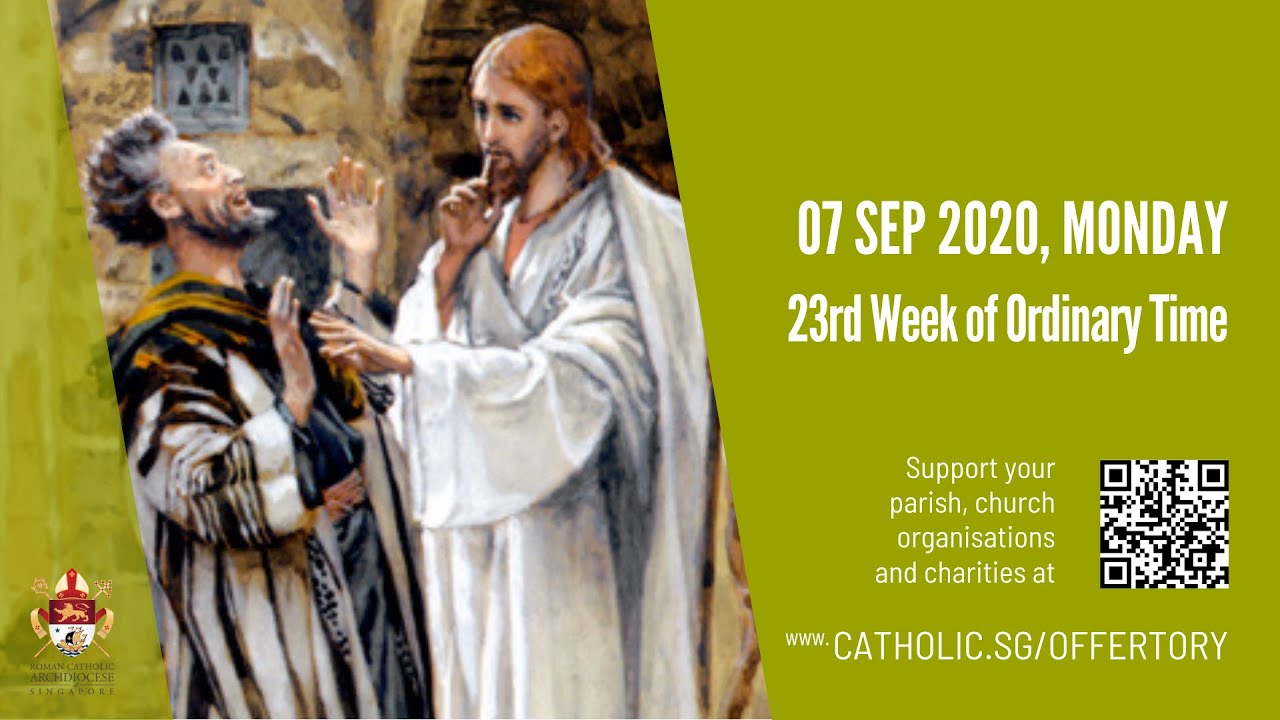 Catholic Mass 7th September 2020 For Monday Today Online – 23rd Week of Ordinary Time 2020
You are watching Today Live stream from Roman Catholic Archdiocese of Singapore
BLIND ZEAL VERSUS COMPLACENCY
Monday, 23rd Week of Ordinary Time 2020 (7th September 2020)
The Catholic Mass today is celebrated all around the world. Here in Singapore, we are pleased to provide online, daily Catholic Mass live or recorded in English to all Catholics and anyone interested in the Catholic faith.
During Catholic Masses, it is not uncommon to hear a homily about Catholic teachings and Catholic answers to life's questions. The Holy Mass is beautiful and stems from Jesus. Expect Catholic prayers, Catholic hymns (Christian songs) that come from 2000 years of tradition and practice. All are welcome.
Watch below;
Catholic Mass 7th September 2020 For Monday Today Online – 23rd Week of Ordinary Time 2020
MASS READINGS:
• First Reading: 1 Corinthians 5:1-8
• Responsorial Psalm: Psalm 5:5-7,12 ("Lead me, Lord, in your justice.")
• Gospel: Luke 6:6-11
First Reading: First Corinthians 5: 1-8
1 It is absolutely heard, that there is fornication among you, and such fornication as the like is not among the heathens; that one should have his father's wife.
2 And you are puffed up; and have not rather mourned, that he might be taken away from among you, that hath done this deed.
3 I indeed, absent in body, but present in spirit, have already judged, as though I were present, him that hath so done,
4 In the name of our Lord Jesus Christ, you being gathered together, and my spirit, with the power of our Lord Jesus;
5 To deliver such a one to Satan for the destruction of the flesh, that the spirit may be saved in the day of our Lord Jesus Christ.
Catholic Daily Mass Readings 7 September 2020 Today Monday
6 Your glorying is not good. Know you not that a little leaven corrupteth the whole lump?
7 Purge out the old leaven, that you may be a new paste, as you are unleavened. For Christ our pasch is sacrificed.
8 Therefore let us feast, not with the old leaven, nor with the leaven of malice and wickedness; but with the unleavened bread of sincerity and truth.
Responsorial Psalm: Psalms 5: 5-6, 7, 12
5 In the morning I will stand before thee, and will see: because thou art not a God that willest iniquity.
6 Neither shall the wicked dwell near thee: nor shall the unjust abide before thy eyes.
7 Thou hatest all the workers of iniquity: Thou wilt destroy all that speak a lie. The bloody and the deceitful man the Lord will abhor.
12 But let all them be glad that hope in thee: they shall rejoice for ever, and thou shalt dwell in them. And all they that love thy name shall glory in thee: CONTINUE READING>>>