Live Streaming
Catholic Mass 5th September 2020 Today Saturday, 22nd Week of Ordinary Time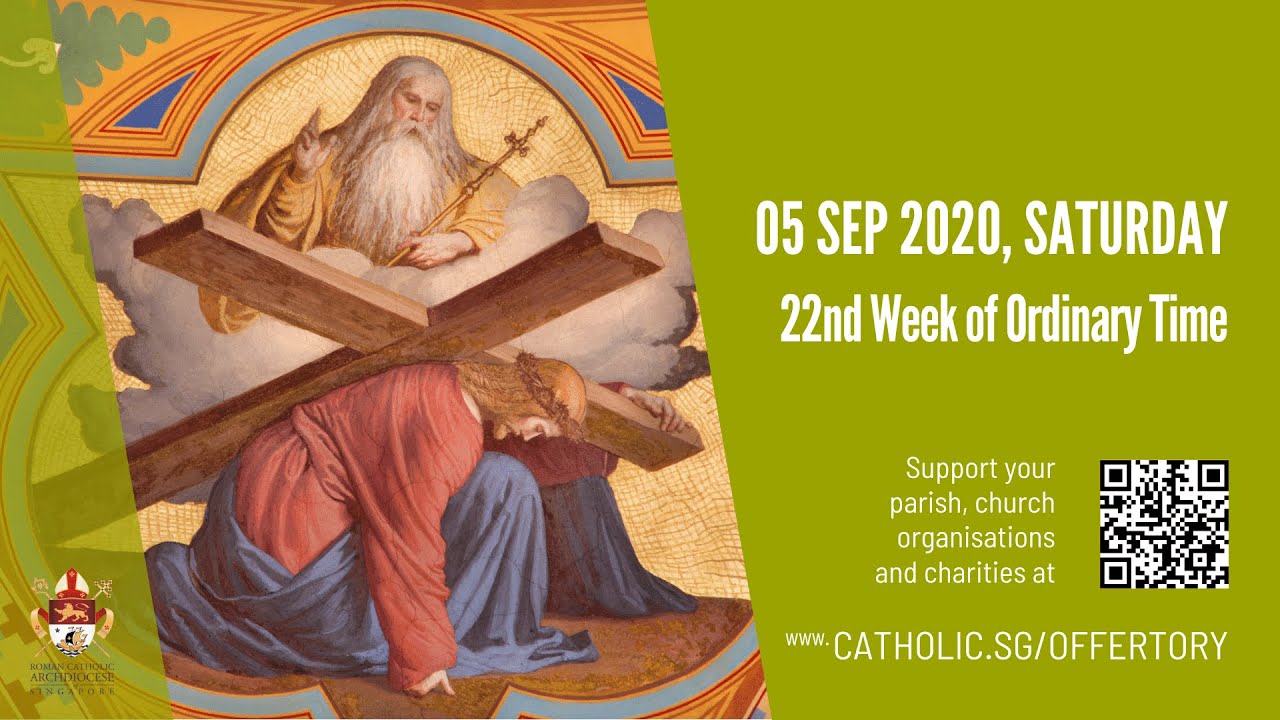 Catholic Mass 5th September 2020 Today Saturday, 22nd Week of Ordinary Time
You are watching Live from Roman Catholic Archdiocese of Singapore
SPIRITUAL FATHERHOOD
Saturday, 22nd Week of Ordinary Time 2020 (5th September 2020)
The Catholic Mass today is celebrated all around the world. Here in Singapore, we are pleased to provide online, daily Catholic Mass live or recorded in English to all Catholics and anyone interested in the Catholic faith. During Catholic Masses, it is not uncommon to hear a homily about Catholic teachings and Catholic answers to life's questions. The Holy Mass is beautiful and stems from Jesus. Expect Catholic prayers, Catholic hymns (Christian songs) that come from 2000 years of tradition and practice. All are welcome.
Watch Live on Youtube;
Catholic Mass 5th September 2020 Today Saturday, 22nd Week of Ordinary Time
MASS READINGS:
• First Reading: 1 Corinthians 4:6-15
• Responsorial Psalm: Psalm 144(145):17-21 ("The Lord is close to all who call him.")
• Gospel: Luke 6:1-5
First Reading: First Corinthians 4: 6b-15
6 But these things, brethren, I have in a figure transferred to myself and to Apollo, for your sakes; that in us you may learn, that one be not puffed up against the other for another, above that which is written.
7 For who distinguisheth thee? Or what hast thou that thou hast not received? And if thou hast received, why dost thou glory, as if thou hadst not received it?
8 You are now full; you are now become rich; you reign without us; and I would to God you did reign, that we also might reign with you.
9 For I think that God hath set forth us apostles, the last, as it were men appointed to death: we are made a spectacle to the world, and to angels, and to men.
Catholic Daily Mass Readings 5th September 2020 Today Saturday
10 We are fools for Christ's sake, but you are wise in Christ; we are weak, but you are strong; you are honourable, but we without honour.
11 Even unto this hour we both hunger and thirst, and are naked, and are buffeted, and have no fixed abode;
12 And we labour, working with our own hands: we are reviled, and we bless; we are persecuted, and we suffer it.
13 We are blasphemed, and we entreat; we are made as the refuse of this world, the offscouring of all even until now.
14 I write not these things to confound you; but I admonish you as my dearest children.
15 For if you have ten thousand instructors in Christ, yet not many fathers. For in Christ Jesus, by the gospel, I have begotten you. Continue Reading…