Live Streaming
Catholic Mass 2nd September 2020 Today Wednesday, 22nd Week of Ordinary Time 2020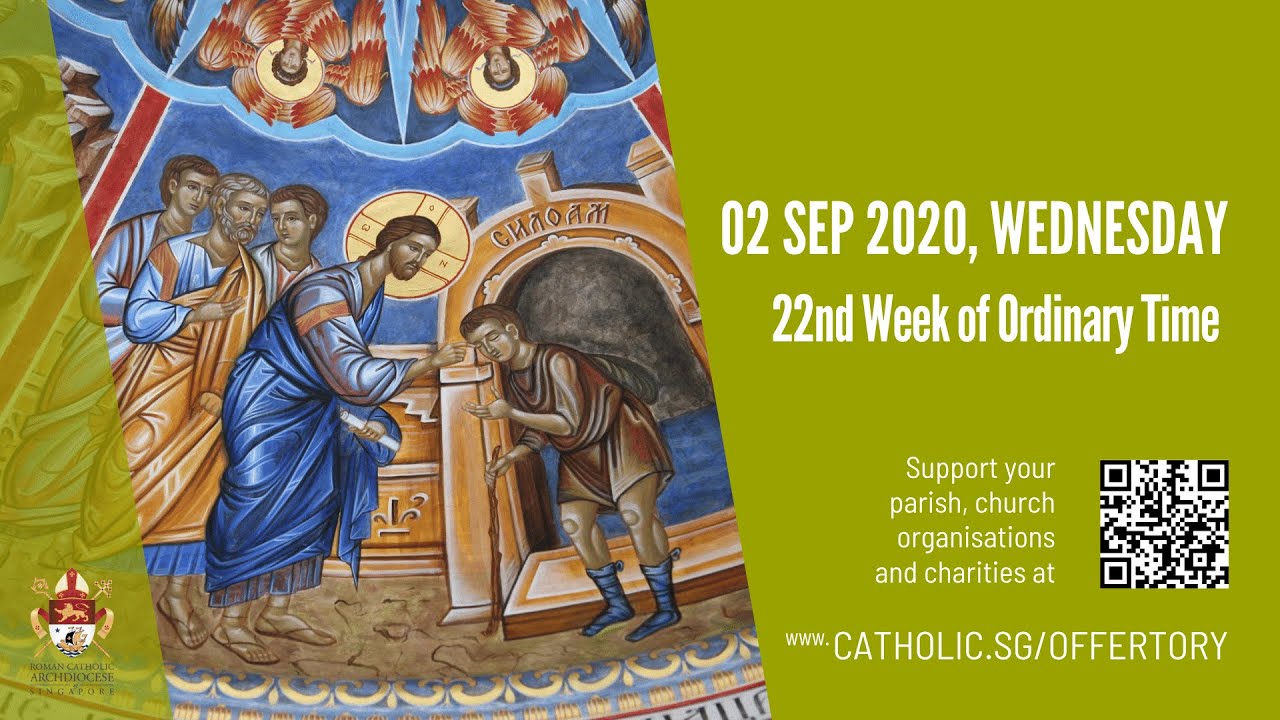 Catholic Mass 2nd September 2020 Today Wednesday, 22nd Week of Ordinary Time 2020
You are watching Livestream of Today Daily Mass for Wednesday, September 2 from Roman Catholic Archdiocese of Singapore.
Wednesday, 22nd Week of Ordinary Time 2020 (2nd September 2020)
The Catholic Mass today is celebrated all around the world. Here in Singapore, we are pleased to provide online, daily Catholic Mass live or recorded in English to all Catholics and anyone interested in the Catholic faith. During Catholic Masses, it is not uncommon to hear a homily about Catholic teachings and Catholic answers to life's questions. The Holy Mass is beautiful and stems from Jesus. Expect Catholic prayers, Catholic hymns (Christian songs) that come from 2000 years of tradition and practice. All are welcome.
Watch below;

Catholic Mass 2nd September 2020 Today Online – Wednesday, 22nd Week of Ordinary Time 2020
MASS READINGS:
• First Reading: 1 Corinthians 3:1-9
• Responsorial Psalm: Psalm 32(33):12-15,20-21 ("Happy the people the Lord has chosen as his own.")
• Gospel: Luke 4:38-44
First Reading: First Corinthians 3: 1-9
1 And I, brethren, could not speak to you as unto spiritual, but as unto carnal. As unto little ones in Christ.
2 I gave you milk to drink, not meat; for you were not able as yet. But neither indeed are you now able; for you are yet carnal.
3 For, whereas there is among you envying and contention, are you not carnal, and walk according to man?
Catholic Mass 2nd September 2020 Today Online
4 For while one saith, I indeed am of Paul; and another, I am of Apollo; are you not men? What then is Apollo, and what is Paul?
5 The ministers of him whom you have believed; and to every one as the Lord hath given.
6 I have planted, Apollo watered, but God gave the increase.
7 Therefore, neither he that planteth is any thing, nor he that watereth; but God that giveth the increase.
8 Now he that planteth, and he that watereth, are one. And every man shall receive his own reward, according to his own labour.
9 For we are God's coadjutors: you are God's husbandry; you are God's building.
Responsorial Psalm: Psalms 33: 12-13, 14-15, 20-21
12 Blessed is the nation whose God is the Lord: the people whom he hath chosen for his inheritance.
13 The Lord hath looked from heaven: he hath beheld all the sons of men.
14 From his habitation which he hath prepared, he hath looked upon all that dwell on the earth.
15 He who hath made the hearts of every one of them: who understandeth all their works.
20 Our soul waiteth for the Lord: for he is our helper and protector.
21 For in him our heart shall rejoice: and in his holy name we have trusted. CONTINUE READING>>>