Live Streaming
Catholic Mass 25th September 2020 Today Online – 25th Week of Ordinary Time – Livestream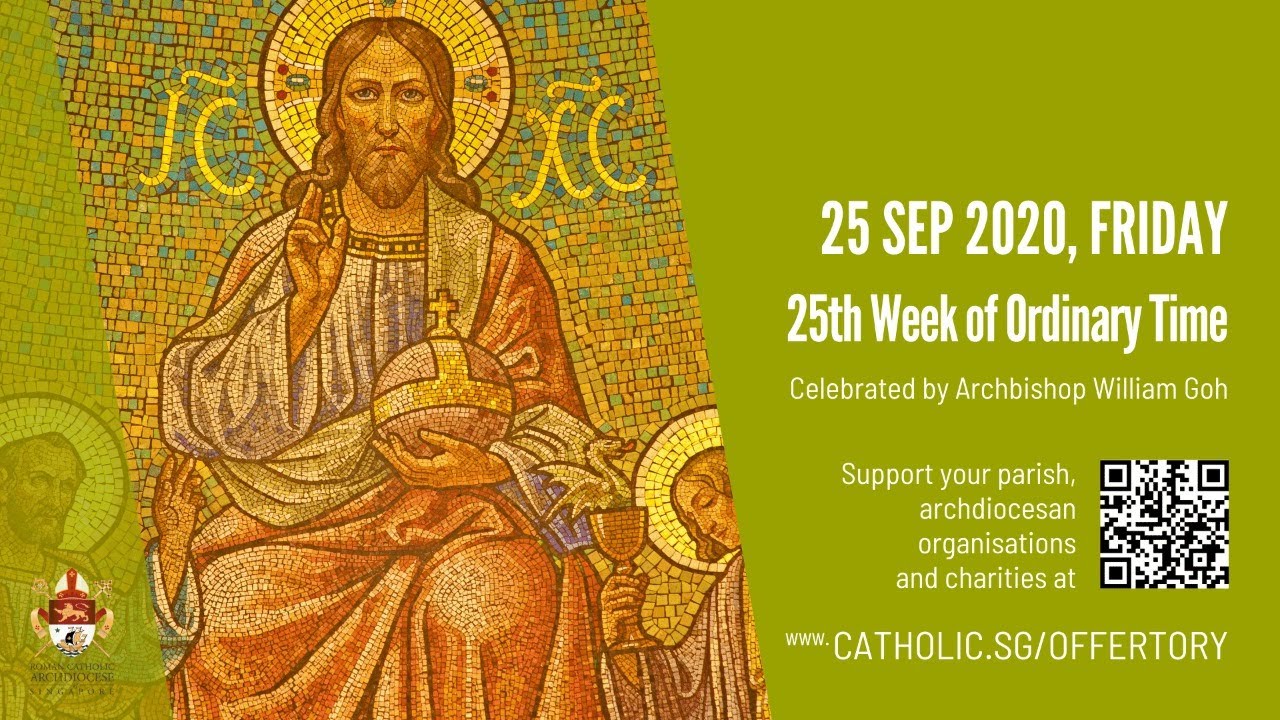 Catholic Mass 25th September 2020 Today Online – 25th Week of Ordinary Time – Livestream
You are watching Livestreaming Daily Mass From Roman Catholic Archdiocese of Singapore
A TIME FOR EVERYTHING
Friday, 25th Week of Ordinary Time (25th September 2020)
Mass Celebrated by Archbishop William Goh
The celebrant for Masses on our channel for Wednesdays to Sundays is Archbishop William Goh.
The Catholic Mass today is celebrated all around the world. Here in Singapore, we are pleased to provide online, daily Catholic Mass live or recorded in English to all Catholics and anyone interested in the Catholic faith. During Catholic Masses, it is not uncommon to hear a homily about Catholic teachings and Catholic answers to life's questions. The Holy Mass is beautiful and stems from Jesus. Expect Catholic prayers, Catholic hymns (Christian songs) that come from 2000 years of tradition and practice. All are welcome.
Watch Below;
Catholic Mass 25th September 2020 Today Online – 25th Week of Ordinary Time – Livestream
MASS READINGS:
• First Reading: Ecclesiastes 3:1-11
• Responsorial Psalm: Psalm 143(144):1-4 ("Blessed be the Lord, my rock.")
• Gospel: Luke 9:18-22
First Reading: Ecclesiastes 3: 1-11
1 All things have their season, and in their times all things pass under heaven.
2 A time to be born and a time to die. A time to plant, and a time to pluck up that which is planted.
3 A time to kill, and a time to heal. A time to destroy, and a time to build.
4 A time to weep, and a time to laugh. A time to mourn, and a time to dance.
5 A time to scatter stones, and a time to gather. A time to embrace, and a time to be far from embraces.
6 A time to get, and a time to lose. A time to keep, and a time to cast away.
7 A time to rend, and a time to sew. A time to keep silence, and a time to speak.
8 A time of love, and a time of hatred. A time of war, and a time of peace.
9 What hath man more of his labour?
10 I have seen the trouble, which God hath given the sons of men to be exercised in it.
11 He hath made all things good in their time, and hath delivered the world to their consideration, so that man cannot find out the work which God hath made from the beginning to the end.
Responsorial Psalm: Psalms 144: 1b and 2abc, 3-4
1 Blessed be the Lord my God, who teacheth my hands to fight, and my fingers to war.
2 My mercy, and my refuge: my support, and my deliverer: My protector, and I have hoped in him: who subdueth my people under me.
3 Lord, what is man, that thou art made known to him? or the son of man, that thou makest account of him?
4 Man is like to vanity: his days pass away like a shadow. CONTINUE READING>>>