Live Streaming
Catholic Live Mass 19th September 2020 Saturday Today Online 24th Week of Ordinary Time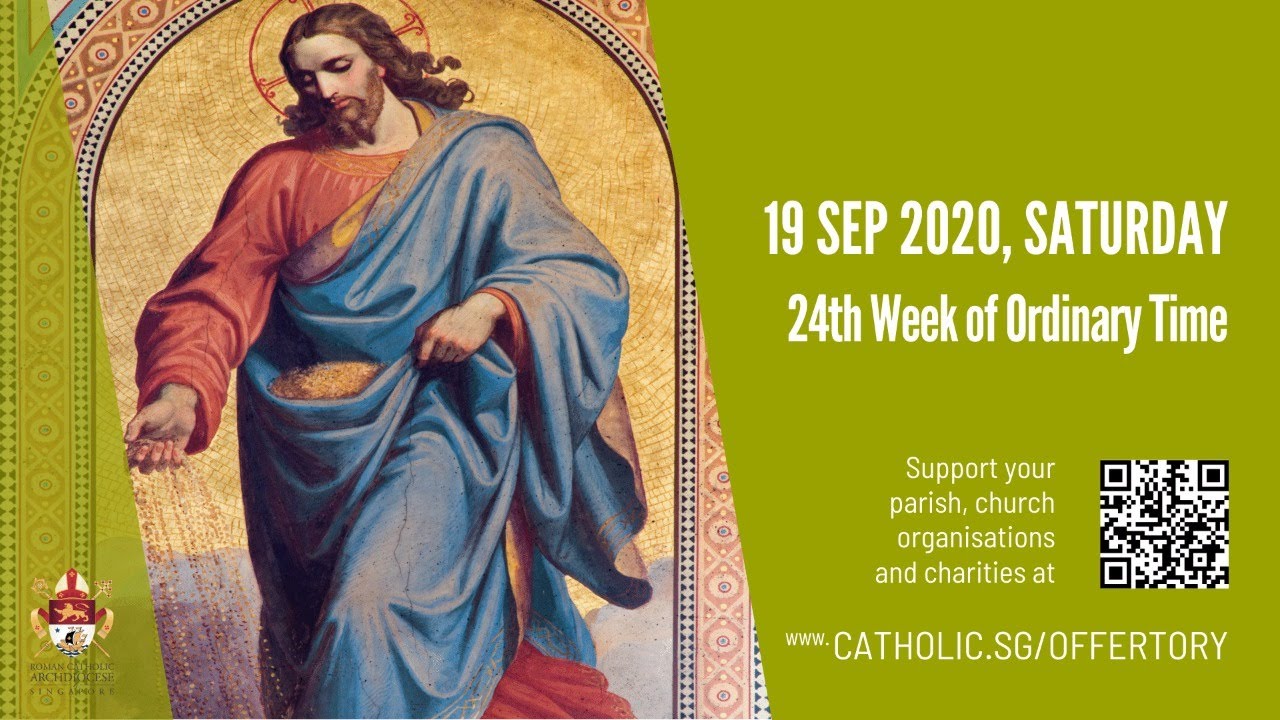 Catholic Live Mass 19th September 2020 Saturday Today Online 24th Week of Ordinary Time
You are watching Today's Live streaming Mass from Roman Catholic Archdiocese of Singapore
BEING PATIENT WITH THE PROCESS OF EVANGELISATION
Saturday, 24th Week of Ordinary Time 2020 (19th September 2020)
The Catholic Mass today is celebrated all around the world. Here in Singapore, we are pleased to provide online, daily Catholic Mass live or recorded in English to all Catholics and anyone interested in the Catholic faith. During Catholic Masses, it is not uncommon to hear a homily about Catholic teachings and Catholic answers to life's questions. The Holy Mass is beautiful and stems from Jesus. Expect Catholic prayers, Catholic hymns (Christian songs) that come from 2000 years of tradition and practice. All are welcome.
Watch below;
Catholic Live Mass 19th September 2020 Saturday Today Online 24th Week of Ordinary Time
MASS READINGS:
• First Reading: 1 Corinthians 15:35-37,42-49
• Responsorial Psalm: Psalm 55(56):10-14 ("I shall walk in the presence of God in the light of the living.")
• Gospel: Luke 8:4-15
First Reading: First Corinthians 15: 35-37, 42-49
35 But some man will say: How do the dead rise again? or with what manner of body shall they come?
36 Senseless man, that which thou sowest is not quickened, except it die first.
37 And that which thou sowest, thou sowest not the body that shall be; but bare grain, as of wheat, or of some of the rest.
42 So also is the resurrection of the dead. It is sown in corruption, it shall rise in incorruption.
43 It is sown in dishonour, it shall rise in glory. It is sown in weakness, it shall rise in power.
44 It is sown a natural body, it shall rise a spiritual body. If there be a natural body, there is also a spiritual body, as it is written:
45 The first man Adam was made into a living soul; the last Adam into a quickening spirit.
46 Yet that was not first which is spiritual, but that which is natural; afterwards that which is spiritual.
47 The first man was of the earth, earthly: the second man, from heaven, heavenly.
48 Such as is the earthly, such also are the earthly: and such as is the heavenly, such also are they that are heavenly.
49 Therefore as we have borne the image of the earthly, let us bear also the image of the heavenly.
Responsorial Psalm: Psalms 56: 10c-12, 13-14
10 Then shall my enemies be turned back. In what day soever I shall call upon thee, behold I know thou art my God.
11 In God will I praise the word, in the Lord will I praise his speech.
12 In God have I hoped, I will not fear what man can do to me.
13 In me, O God, are vows to thee, which I will pay, praises to thee:
14 Because thou hast delivered my soul from death, my feet from falling: that I may please in the sight of God, in the light of the living. CONTINUE READING>>>