Live Streaming
Catholic Live Mass 12th September 2020 Today Saturday, 23rd Week of Ordinary Time 2020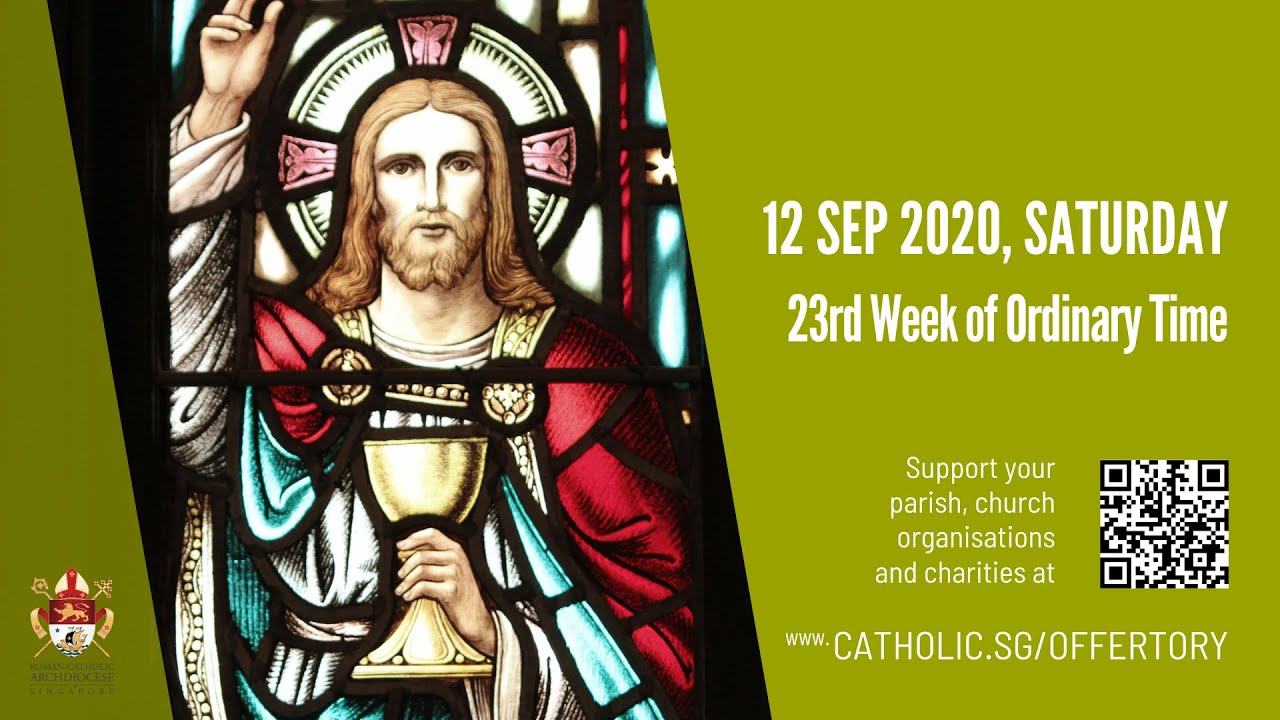 Catholic Live Mass 12th September 2020 Today Saturday, 23rd Week of Ordinary Time 2020
You are watching the LIVESTREAMING from Roman Catholic Archdiocese of Singapore
PARTICIPATING IN NON-CHRISTIAN WORSHIP AND SACRIFICES
Saturday, 23rd Week of Ordinary Time 2020 (12th September 2020)
The Catholic Mass today is celebrated all around the world. Here in Singapore, we are pleased to provide online, daily Catholic Mass live or recorded in English to all Catholics and anyone interested in the Catholic faith. During Catholic Masses, it is not uncommon to hear a homily about Catholic teachings and Catholic answers to life's questions. The Holy Mass is beautiful and stems from Jesus. Expect Catholic prayers, Catholic hymns (Christian songs) that come from 2000 years of tradition and practice. All are welcome.
Watch Below;

Catholic Live Mass 12th September 2020 Today Saturday, 23rd Week of Ordinary Time 2020
MASS READINGS:
• First Reading: 1 Corinthians 10:14-22
• Responsorial Psalm: Psalm 115(116):12-13,17-18 ("A thanksgiving sacrifice I make to you, O Lord.")
• Gospel: Luke 6:43-49
First Reading: First Corinthians 10: 14-22
14 Wherefore, my dearly beloved, fly from the service of idols.
15 I speak as to wise men: judge ye yourselves what I say.
16 The chalice of benediction, which we bless, is it not the communion of the blood of Christ? And the bread, which we break, is it not the partaking of the body of the Lord?
17 For we, being many, are one bread, one body, all that partake of one bread.
18 Behold Israel according to the flesh: are not they, that eat of the sacrifices, partakers of the altar?
Catholic Daily Mass Reading 12th September 2020 Today Saturday
19 What then? Do I say, that what is offered in sacrifice to idols, is any thing? Or, that the idol is any thing?
20 But the things which the heathens sacrifice, they sacrifice to devils, and not to God. And I would not that you should be made partakers with devils.
21 You cannot drink the chalice of the Lord, and the chalice of devils: you cannot be partakers of the table of the Lord, and of the table of devils.
22 Do we provoke the Lord to jealousy? Are we stronger than he? All things are lawful for me, but all things are not expedient. CONTINUE READING>>>