Live Streaming
Catholic Sunday Mass 30th August 2020 Today Live Online – Livestream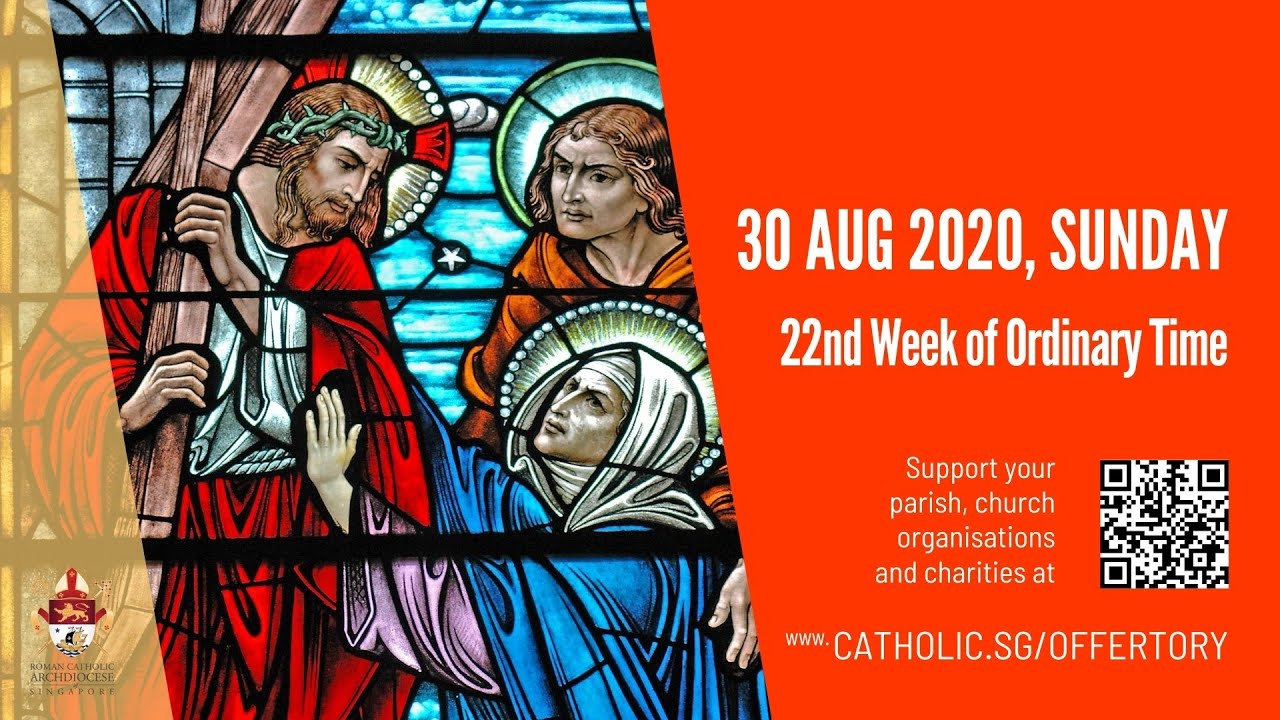 Catholic Sunday Mass 30th August 2020 Today Live Online – Livestream
You are watching Catholic Sunday Mass Today Live Online – Sunday, 22nd Week of Ordinary Time 2020 – Livestream from Roman Catholic Archdiocese of Singapore.
FEAR OF SUFFERING IS OVERCOME BY LOVE OF GOD AND LOVE FOR MAN
Sunday, 22nd Week of Ordinary Time 2020 (30th August 2020)
Watch Live;
Catholic Sunday Mass 30th August 2020 Today Live Online – Livestream
The Catholic Mass today is celebrated all around the world. Here in Singapore, we are pleased to provide online, daily Catholic Mass live or recorded in English to all Catholics and anyone interested in the Catholic faith.
During Catholic Masses, it is not uncommon to hear a homily about Catholic teachings and Catholic answers to life's questions. The Holy Mass is beautiful and stems from Jesus. Expect Catholic prayers, Catholic hymns (Christian songs) that come from 2000 years of tradition and practice. All are welcome.
MASS READINGS:
• First Reading: Jeremiah 20:7-9
• Responsorial Psalm: Psalm 62(63):2-6,8-9
• Second Reading: Romans 12:1-2
• Gospel: Matthew 16:21-27
First Reading: Jeremiah 20: 7-9
7 Thou hast deceived me, O Lord, and I am deceived: thou hast been stronger than I, and thou hast prevailed. I am become a laughing-stock all the day, all scoff at me.
8 For I am speaking now this long time, crying out against iniquity, and I often proclaim devastation: and the word of the Lord is made a reproach to me, and a derision all the day.
9 Then I said: I will not make mention of him, nor speak any more in his name: and there came in my heart as a burning fire shut up in my bones, and I was wearied, not being able to bear it.
Responsorial Psalm: Psalms 63: 2, 3-4, 5-6, 8-9 (2b)
2 O God, my God, to thee do I watch at break of day. For thee my soul hath thirsted; for thee my flesh, O how many ways!
3 In a desert land, and where there is no way, and no water: so in the sanctuary have I come before thee, to see thy power and thy glory.
4 For thy mercy is better than lives: thee my lips shall praise.
5 Thus will I bless thee all my life long: and in thy name I will lift up my hands.
6 Let my soul be filled as with marrow and fatness: and my mouth shall praise thee with joyful lips.
8 Because thou hast been my helper. And I will rejoice under the covert of thy wings:
9 My soul hath stuck close to thee: thy right hand hath received me.
(2b For thee my soul hath thirsted; for thee my flesh, O how many ways!) CONTINUE READING>>>