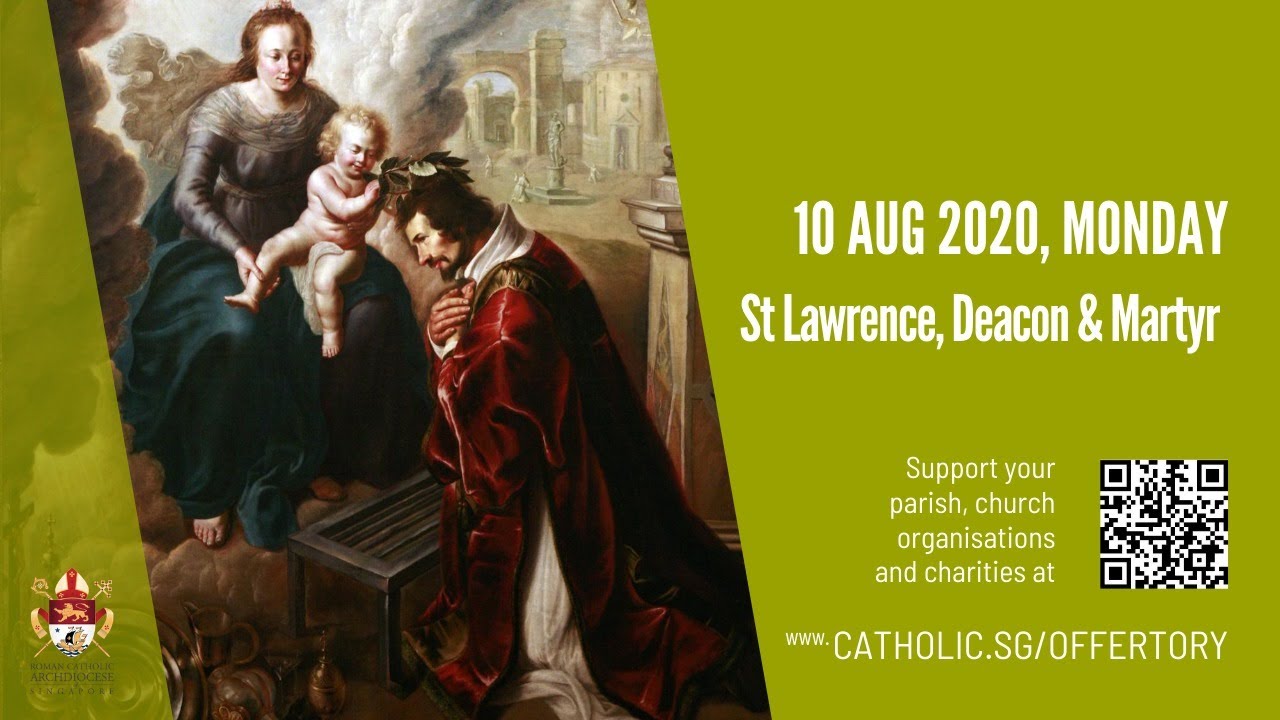 Catholic Monday Mass 10th August 2020 Online – St Lawrence, Deacon & Martyr
You are watching Today Daily Mass Live From Roman Catholic Archdiocese of Singapore.
EUCHARIST AND CHARITY
Monday, St Lawrence, Deacon & Martyr (10th August 2020)
The Catholic Mass today is celebrated all around the world. Here in Singapore, we are pleased to provide online, daily Catholic Mass live or recorded in English to all Catholics and anyone interested in the Catholic faith.
During Catholic Masses, it is not uncommon to hear a homily about Catholic teachings and Catholic answers to life's questions. The Holy Mass is beautiful and stems from Jesus. Expect Catholic prayers, Catholic hymns (Christian songs) that come from 2000 years of tradition and practice. All are welcome.
Watch below;
Catholic Monday Mass 10th August 2020 Online – St Lawrence, Deacon & Martyr
MASS READINGS:
• First Reading: 2 Corinthians 9:6-10
• Responsorial Psalm: Psalm 111(112):1-2,5-9 ("Happy the man who takes pity and lends.")
• Gospel: John 12:24-26
First Reading: Second Corinthians 9: 6-10
6 Now this I say: He who soweth sparingly, shall also reap sparingly: and he who soweth in blessings, shall also reap blessings.
7 Every one as he hath determined in his heart, not with sadness, or of necessity: for God loveth a cheerful giver.
8 And God is able to make all grace abound in you; that ye always, having all sufficiency in all things, may abound to every good work,
Catholic Monday Daily Mass Readings 10th August 2020
9 As it is written: He hath dispersed abroad, he hath given to the poor: his justice remaineth for ever.
10 And he that ministereth seed to the sower, will both give you bread to eat, and will multiply your seed, and increase the growth of the fruits of your justice:
Responsorial Psalm: Psalms 112: 1-2, 5-6, 7-8, 9
1 Blessed is the man that feareth the Lord: he shall delight exceedingly in his commandments.
2 His seed shall be mighty upon earth: the generation of the righteous shall be blessed.
5 Acceptable is the man that sheweth mercy and lendeth: he shall order his words with judgment:
6 Because he shall not be moved for ever.
7 The just shall be in everlasting remembrance: he shall not hear the evil hearing. His heart is ready to hope in the Lord:
8 His heart is strengthened, he shall not be moved until he look over his enemies.
9 He hath distributed, he hath given to the poor: his justice remaineth for ever and ever: his horn shall be exalted in glory. CONTINUE READING>>>