Live Streaming
Catholic Mass 26th August 2020 Online – 21st Week of Ordinary Time 2020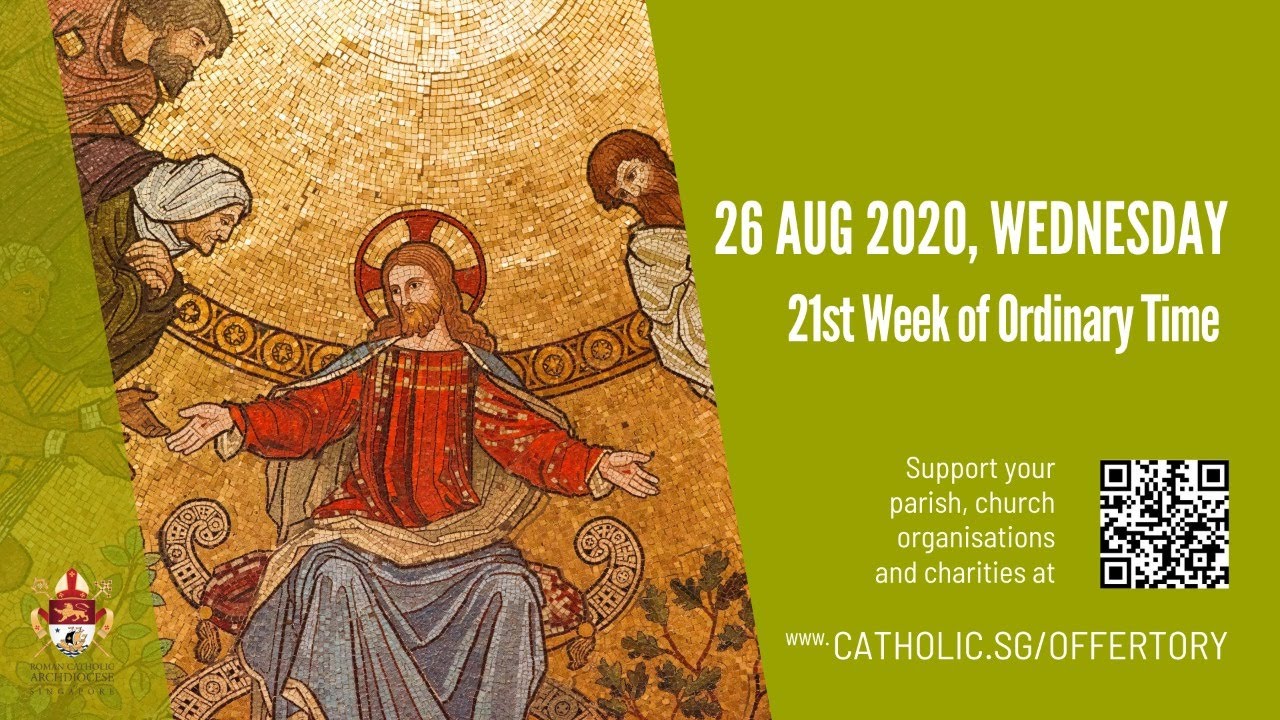 Catholic Mass 26th August 2020 Online – 21st Week of Ordinary Time 2020
You are watching Live streaming Daily Mass from Catholic Archdiocese of Singapore
COMFORTABLE CHRISTIANITY
Wednesday, 21st Week of Ordinary Time 2020 (26th August 2020)
Watch below;
https://youtu.be/QHZxgVmsowk
Catholic Mass 26th August 2020 Online – 21st Week of Ordinary Time 2020
The Catholic Mass today is celebrated all around the world. Here in Singapore, we are pleased to provide online, daily Catholic Mass live or recorded in English to all Catholics and anyone interested in the Catholic faith. During Catholic Masses, it is not uncommon to hear a homily about Catholic teachings and Catholic answers to life's questions. The Holy Mass is beautiful and stems from Jesus. Expect Catholic prayers, Catholic hymns (Christian songs) that come from 2000 years of tradition and practice. All are welcome.
MASS READINGS:
• First Reading: 2 Thessalonians 3:6-10,16-18
• Responsorial Psalm: Psalm 127(128):1-2,4-5 ("O blessed are those who fear the Lord.")
• Gospel: Matthew 23:27-32
First Reading: Second Thessalonians 3: 6-10, 16-18
6 And we charge you, brethren, in the name of our Lord Jesus Christ, that you withdraw yourselves from every brother walking disorderly, and not according to the tradition which they have received of us.
7 For yourselves know how you ought to imitate us: for we were not disorderly among you;
8 Neither did we eat any man's bread for nothing, but in labour and in toil we worked night and day, lest we should be chargeable to any of you.
9 Not as if we had not power: but that we might give ourselves a pattern unto you, to imitate us.
10 For also when we were with you, this we declared to you: that, if any man will not work, neither let him eat.
16 Now the Lord of peace himself give you everlasting peace in every place. The Lord be with you all.
17 The salutation of Paul with my own hand; which is the sign in every epistle. So I write.
18 The grace of our Lord Jesus Christ be with you all. Amen. CONTINUE READING>>>