Live Streaming
Catholic Mass 24th August 2020 Today Online – St Bartholomew, Apostle 2020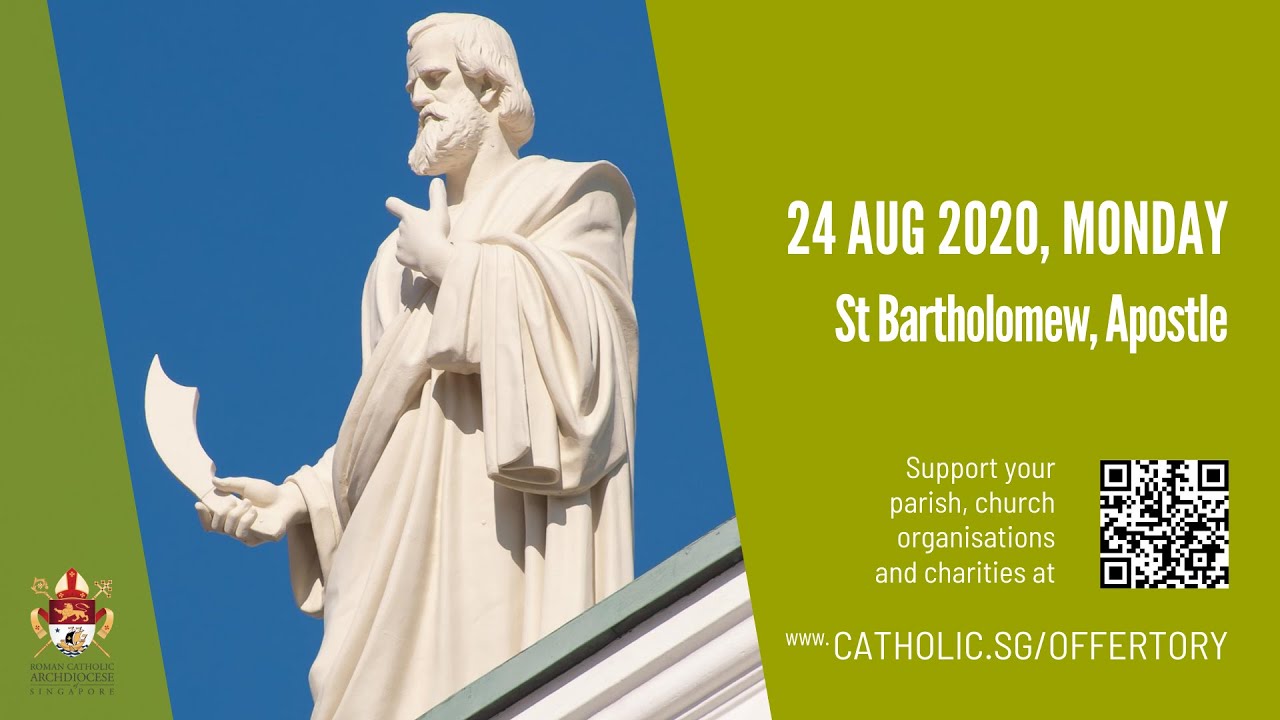 Catholic Mass 24th August 2020 Today Online – St Bartholomew, Apostle 2020
You are watching Catholic Weekday Mass Today Online – Monday, St Bartholomew, Apostle 2020 Live from Roman Catholic Archdiocese of Singapore.
KERYGMA BEFORE CATECHESIS
Monday, St Bartholomew, Apostle 2020 (24th August 2020)
The Catholic Mass today is celebrated all around the world. Here in Singapore, we are pleased to provide online, daily Catholic Mass live or recorded in English to all Catholics and anyone interested in the Catholic faith. During Catholic Masses, it is not uncommon to hear a homily about Catholic teachings and Catholic answers to life's questions. The Holy Mass is beautiful and stems from Jesus. Expect Catholic prayers, Catholic hymns (Christian songs) that come from 2000 years of tradition and practice. All are welcome.
Watch below;
Catholic Mass 24th August 2020 Today Online – St Bartholomew, Apostle 2020
MASS READINGS:
• First Reading: Apocalypse 21:9-14
• Responsorial Psalm: Psalm 144(145):10-13a,17-18 ("Your friends, O Lord, make known the glorious splendour of your reign.")
• Gospel: John 1:45-51
First Reading: Revelation 21: 9b-14
9 And there came one of the seven angels, who had the vials full of the seven last plagues, and spoke with me, saying: Come, and I will shew thee the bride, the wife of the Lamb.
10 And he took me up in spirit to a great and high mountain: and he shewed me the holy city Jerusalem coming down out of heaven from God,
11 Having the glory of God, and the light thereof was like to a precious stone, as to the jasper stone, even as crystal.
12 And it had a wall great and high, having twelve gates, and in the gates twelve angels, and names written thereon, which are the names of the twelve tribes of the children of Israel.
Catholic Daily Mass Readings Monday 24th August 2020
13 On the east, three gates: and on the north, three gates: and on the south, three gates: and on the west, three gates.
14 And the wall of the city had twelve foundations, and in them, the twelve names of the twelve apostles of the Lamb.
Responsorial Psalm: Psalms 145: 10-11, 12-13, 17-18
10 Let all thy works, O lord, praise thee: and let thy saints bless thee.
11 They shall speak of the glory of thy kingdom: and shall tell of thy power:
12 To make thy might known to the sons of men: and the glory of the magnificence of thy kingdom.
13 Thy kingdom is a kingdom of all ages: and thy dominion endureth throughout all generations. The Lord is faithful in all his words: and holy in all his works.
17 The Lord is just in all his ways: and holy in all his works.
18 The Lord is nigh unto all them that call upon him: to all that call upon him in truth.