Live Streaming
Catholic Live Sunday Mass 23rd August 2020 Online – 21st Week of Ordinary Time 2020 – Livestream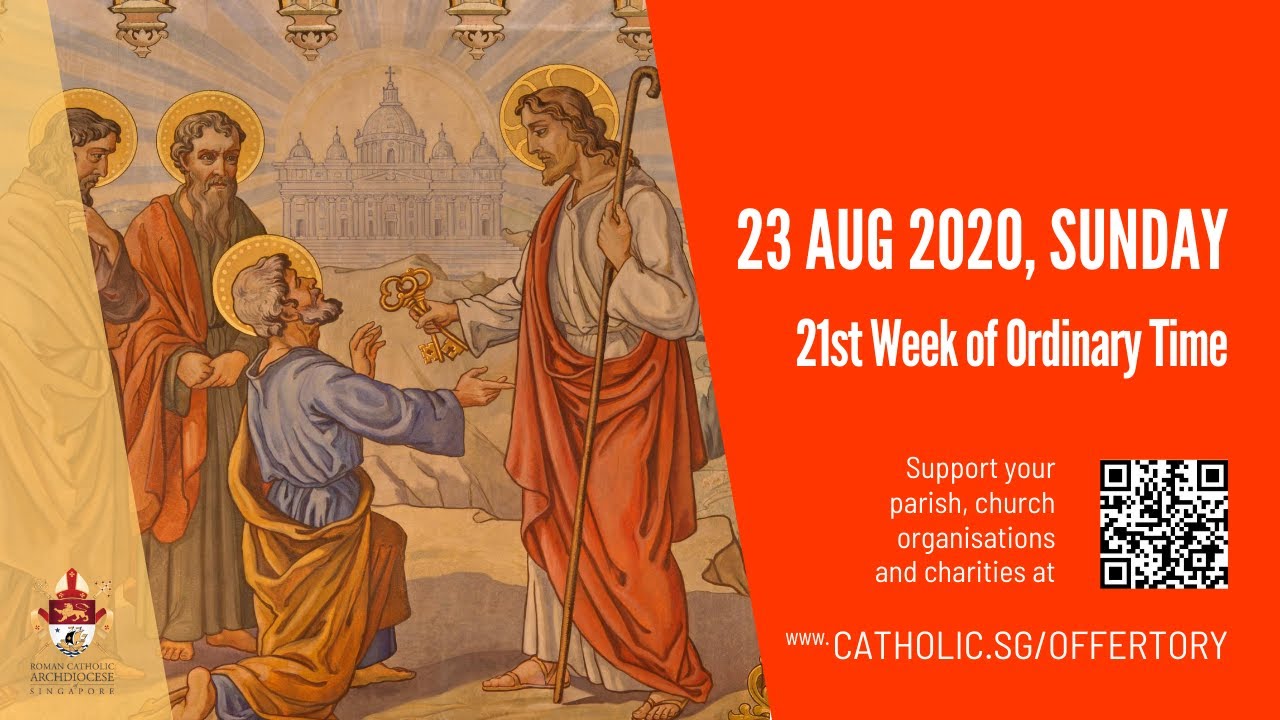 Catholic Live Sunday Mass 23rd August 2020 Online – 21st Week of Ordinary Time 2020 – Livestream
You are watching Live Streaming Sunday Mass Today 23rd August from Roman Catholic Archdiocese of Singapore.
THE PETRINE MINISTRY
Sunday, 21st Week of Ordinary Time (23rd August 2020)
The Catholic Mass today is celebrated all around the world. Here in Singapore, we are pleased to provide online, daily Catholic Mass live or recorded in English to all Catholics and anyone interested in the Catholic faith. During Catholic Masses, it is not uncommon to hear a homily about Catholic teachings and Catholic answers to life's questions. The Holy Mass is beautiful and stems from Jesus. Expect Catholic prayers, Catholic hymns (Christian songs) that come from 2000 years of tradition and practice. All are welcome.
Watch Below;
Catholic Live Sunday Mass 23rd August 2020 Online – 21st Week of Ordinary Time 2020 – Livestream
MASS READINGS:
• First Reading: Isaiah 22:19-23
• Responsorial Psalm: Psalm 137(138):1-3,6,8
• Second Reading: Romans 11:33-36
• Gospel: Matthew 16:13-20
First Reading: Isaiah 22: 19-23
19 And I will drive thee out From thy station, and depose thee from thy ministry.
20 And it shall come to pass in that day, that I will call my servant Eliacim the son of Helcias,
21 And I will clothe him with thy robe, and will strengthen him with thy girdle, and will give thy power into his hand: and he shall be as a father to the inhabitants of Jerusalem, and to the house of Juda.
22 And I will lay the key of the house of David upon his shoulder: and he shall open, and none shall shut: and he shall shut, and none shall open.
23 And I will fasten him as a peg in a sure place, and he shall be for a throne of glory to the house of his father.
Responsorial Psalm: Psalms 138: 1-2, 2-3, 6, 8 (8bc)
1 I will praise thee, O lord, with my whole heart: for thou hast heard the words of my mouth. I will sing praise to thee in the sight of his angels:
2 I will worship towards thy holy temple, and I will give glory to thy name. For thy mercy, and for thy truth: for thou hast magnified thy holy name above all.
3 In what day soever I shall call upon thee, hear me: thou shall multiply strength in my soul.
6 For the Lord is high, and looketh on the low: and the high he knoweth afar off.
8 The Lord will repay for me: thy mercy, O Lord, endureth for ever: O despise not the work of thy hands.
(8 O Lord, endureth for ever: O despise not the work of thy hands.)
Second Reading: Romans 11: 33-36
33 O the depth of the riches of the wisdom and of the knowledge of God! How incomprehensible are his judgments, and how unsearchable his ways!
34 For who hath known the mind of the Lord? Or who hath been his counsellor?