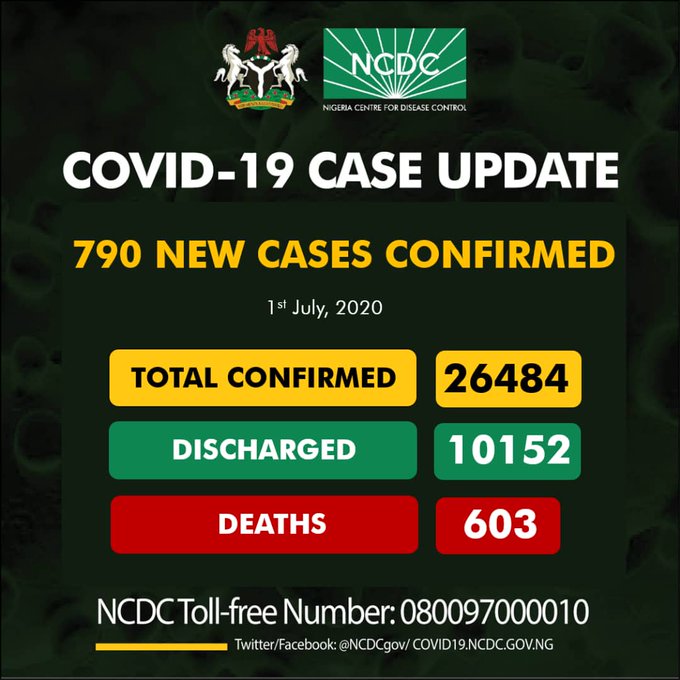 Nigeria records 790 new cases of COVID-19 as toll reaches 26, 484
The Nigeria Centre For Disease Control, NCDC has confirmed new 790 cases of Coronavirus within 24 hours, as Delta state records the highest number of cases.
The report was contained in a publication posted on its official Twitter handle. According to NCDC, 26,484 confirmed so far and 10,152 persons treated and discharged while total deaths reached 603.
Out of the 790 cases, Delta state recorded 166 new cases, while Lagos state confirmed 120 cases.
Others are Enugu-66, FCT-65, Edo-60, Ogun-43, Kano-41, Kaduna-39, Ondo-33, Rivers-32, Bayelsa-29, Katsina-21, Imo-20, Kwara-18, Oyo-11, Abia-10,Benue-6,Gombe-4, Yobe-2, Bauchi-2 and Kebbi state recorded 2 cases.
Below is the tweet made by NCDC on its official page on Wednesday night;
790 new cases of #COVID19Nigeria;

Delta-166
Lagos-120
Enugu-66
FCT-65
Edo-60
Ogun-43
Kano-41
Kaduna-39
Ondo-33
Rivers-32
Bayelsa-29
Katsina-21
Imo-20
Kwara-18
Oyo-11
Abia-10
Benue-6
Gombe-4
Yobe-2
Bauchi-2
Kebbi-2

26,484 confirmed
10,152 discharged
603 deaths pic.twitter.com/9fxpoeBZDP

— NCDC (@NCDCgov) July 1, 2020
Below is another chart that shows the total figure recorded so far in all the states since the pandemic broke out in Nigeria.
Share your story with us: admin@chidispalace.com
Follow Us On Social Media Platforms: Facebook Page, Twitter