Nigerian News
Nigeria records 561 new cases of COVID-19 with 590 deaths so far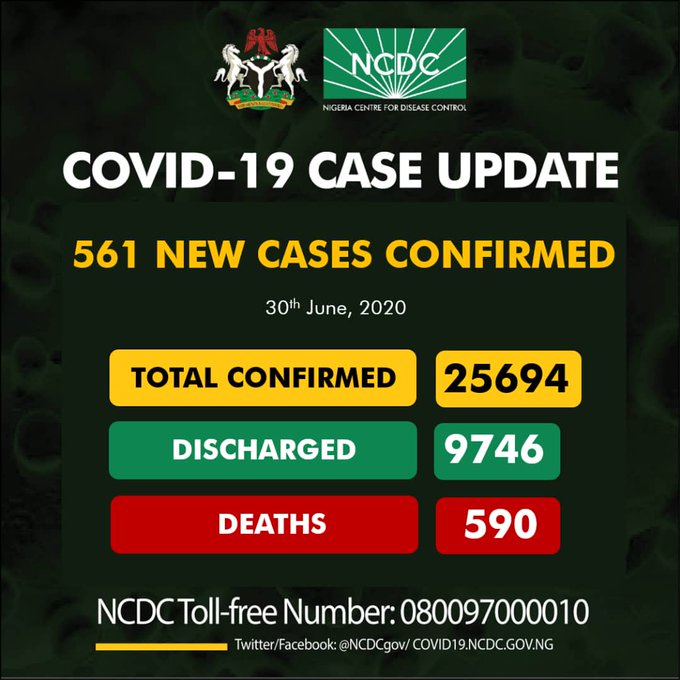 Nigeria records 561 new cases of COVID-19 with 590 deaths so far
The Nigeria Center For Disease Control, NCDC has confirmed 561 new cases of Coronavirus in the last 24 hours bringing the total number to 25, 694.
This was contained a report published through its official Twitter account on Tuesday night (11:50pm). The report also stated that NCDC through its Isolation centers across the country has successfully treated and discharged 9746 patients of COVID-19 since the breakout in Nigeria.
In the report, Lagos state recorded 200 new cases with a total of 10,510 so far. Edo state also recorded 119, followed by Kaduna state with 52 cases. Others are FCT-52, Niger-32, Ogun-19, Ondo-16, Imo-14, Plateau-11, Abia-8, Oyo-8, Bayelsa-7, Katsina-6, Kano-5, Bauchi-3, Osun-3, Kebbi-3, Borno-2 and Jigawa state recorded 1 case.
Below is the NCDC reported as posted on Twitter;
561 new cases of #COVID19Nigeria;

Lagos-200
Edo-119
Kaduna-52
FCT-52
Niger-32
Ogun-19
Ondo-16
Imo-14
Plateau-11
Abia-8
Oyo-8
Bayelsa-7
Katsina-6
Kano-5
Bauchi-3
Osun-3
Kebbi-3
Borno-2
Jigawa-1

25,694 confirmed
9,746 discharged
590 deaths pic.twitter.com/eWq5s7KvYj

— NCDC (@NCDCgov) June 30, 2020

The chart below shows the total figure of infection of COVID-19 collated state by state by the Nigeria Centre For Disease Control, NCDC.
Nigeria records 561 new cases of COVID-19 with 590 deaths so far