Nigerian News
Nigeria records 573 new cases of COVID-19, Lagos and Rivers states on the spotlight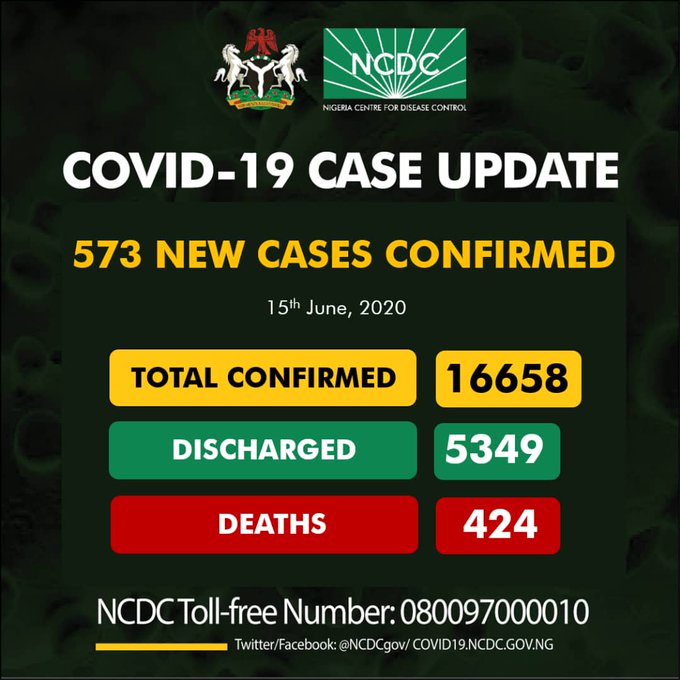 Nigeria records 573 new cases of COVID-19, Lagos and Rivers states on the spotlight
The Nigeria Centre For Disease Control, NCDC has confirmed 573 new cases of Coronavirus bringing the number to 16, 658. The report is contained in a publication made by the agency which was posted Monday night at about 11:50 pm through its official Twitter handle.
According to the report, the toll confirmed is 16,658 5,349 cases discharged since the spread began and 424 people has died of the virus across the country.
With the new confirmed cases of 573, Lagos state recorded 216 and Rivers cases increased to 592 as 103 persons tested positive.
Here is the figures confirmed by NCDC;
Lagos-216; Rivers-103; Oyo-68, Edo-40, Kano-21, Gombe-20, FCT-17, Delta-13, Plateau-12, Bauchi-12, Niger-10, Kebbi-9, Ogun-8, Ondo-8,Abia-7, Nasarawa-5, Borno-1, Kwara-1, Benue-1, and Anambra-1.
Check out the total figure compiled by NCDC from state to state.