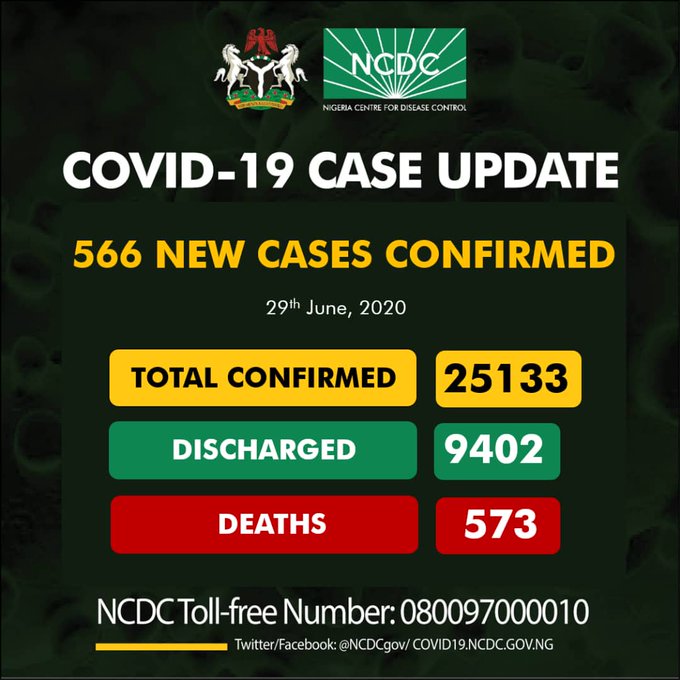 Nigeria records 566 new cases of COVID-19 as toll hits 25,133
The Nigeria Center For Disease Control, NCDC has confirmed 566 new cases in the last 24hours bringing the total number to 25, 133 cases so far.
NCDC confirmed this new cases Monday night at about 11:23. According to them, out of 25,133 cases, 9402 cases have been treated and discharged successfully across the country. Unfortunately, 573 persons died of Coronavirus complications.
In the new report, the affected states are Lagos which confirmed – 166 cases, followed by Oyo states with 66 cases. Others are Delta-53, Ebonyi-43, Plateau-34, Ondo-32, FCT-26, Ogun-25, Edo-24, Imo-15, Bayelsa-13, Benue-12, Gombe-11, Kano-11, Kaduna-11, Osun-8, Nasarawa-7, Borno-5, Katsina-2 and Anambra state recorded 2 cases.
566 new cases of #COVID19Nigeria;

Lagos-166
Oyo-66
Delta-53
Ebonyi-43
Plateau-34
Ondo-32
FCT-26
Ogun-25
Edo-24
Imo-15
Bayelsa-13
Benue-12
Gombe-11
Kano-11
Kaduna-11
Osun-8
Nasarawa-7
Borno-5
Katsina-2
Anambra-2

25,133 confirmed
9,402 discharged
573 deaths pic.twitter.com/cTRnI4xulq

— NCDC (@NCDCgov) June 29, 2020
In a recent development, 2,683 COVID-19 patients refused to be admitted in Lagos state.
The Lagos State Commissioner for Health, Prof. Akin Abayomi, has said 2,683 COVID-19 patients in the state have not turned up for admission after their test came out positive.
Abayomi disclosed this on his Twitter handle, @ProfAkinAbayomi, saying the patients out of fear of stigmatisation or ignorance refused to show up at the isolation centres.
Share your story with us: admin@chidispalace.com
Follow Us On Social Media Platforms: Facebook Page, Twitter