Nigerian News
Breaking News: 420 dead as Nigeria's COVID-19 cases exceed 16,000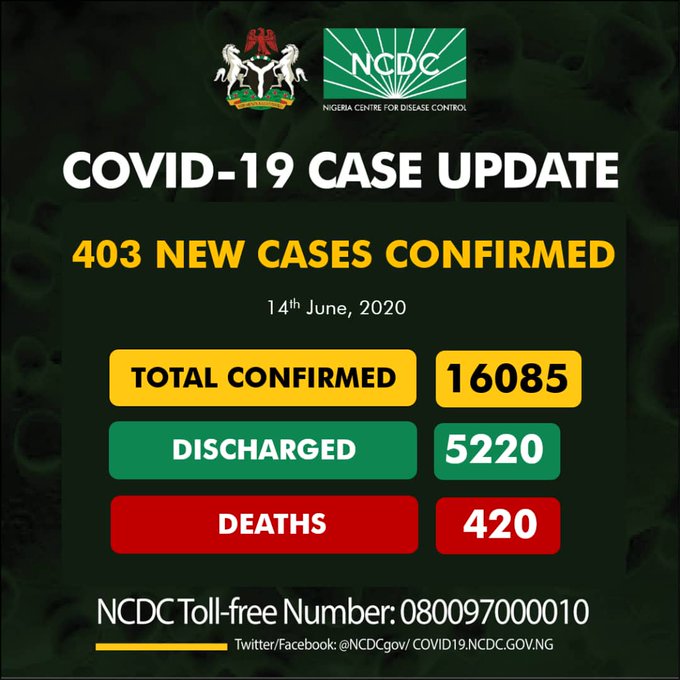 420 dead as Nigeria's COVID-19 cases exceed 16,000
The Nigeria Center For Disease Control, NCDC on Sunday night announced confirmation of 403 new cases of COVID-19 in the country.
This was contained a publication the center posted through its Twitter official page at about 11:43 Sunday night 14th June which has brought the total of Coronavirus spread to 16,085 with 420 deaths and 5220 discharged from different isolation centre across the country.
The new confirmed cases are; Gombe-73; Lagos-68, Kano-46, Edo-36, FCT-35, Nasarawa-31, Kaduna-17, Oyo-16, Abia-15, Delta-13, Borno-13, Plateau-8, Niger-7, Rivers-7, Enugu-6, Ogun-6, Kebbi-3, Ondo-1, Anambra-1 and Imo-1.
16,085 confirmed
5,220 discharged
420 deaths
Globally, the novel coronavirus has killed at least 431,193 people since the outbreak emerged in China last December, according to a tally compiled by AFP at 07 pm on Sunday.
At least 7,848,160 cases of coronavirus have been registered in 196 countries and territories. Of these, at least 3,534,200 are considered recovered.
420 dead as Nigeria's COVID-19 cases exceed 16,000
Europe overall has 187,701 deaths from 2,400,924 cases, the United States and Canada have 123,782 deaths from 2,183,239 infections, Latin America and the Caribbean 78,557 deaths from 1,622,741 cases, Asia 22,958 deaths from 838,300 cases, the Middle East 11,735 deaths from 558,618 cases, Africa 6,329 deaths from 235,637 cases, and Oceania 131 deaths from 8,710 cases.
Below is an index of all the cases across Nigeria as also confirmed by NCDC. See below;