Nigerian News
Nigeria confirms 184 new cases of COVID19 with a total of 164 death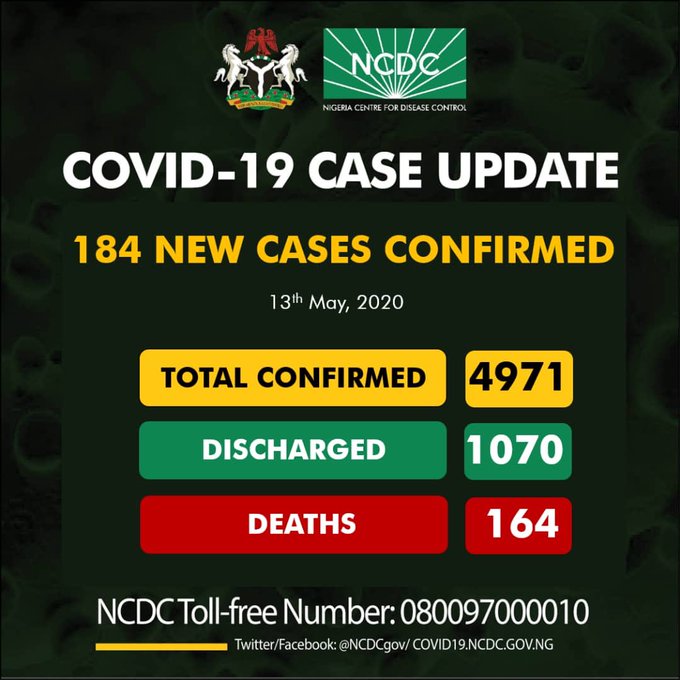 Nigeria confirms 184 new cases of COVID19 with a total of 164 death
The Nigeria Centre For Disease Control, NCDC has confirmed 184 new cases of Coronavirus in Nigeria bring the number of cases to 4971.
The new report was published via its official Twitter page 11:29pm Wednesday night. It stated that out of the 184 new cases, Lagos recorded 51 while Jigawa recorded 23 and Bauchi 16.
Others are 16-Katsina Kano 14, Abuja 10, Rivers 10, Kwara 9, Delta 5, Kaduna 5, Sokoto 4, Oyo 4.
Also Kebbi, Nasarawa, and Osun recorded 3 cases each. Ondo state confirmed 2 cases and Ebonyi, Edo, Enugu, Anambra, Plateau and Niger states recorded 1 respectively.
As it stands Nigeria has a total of 4971 cases and 1070 has recovered and discharged across the states and 164 death recorded.
Read below chat as published by NCDC;
184 new cases of #COVID19;
51-Lagos
23-Jigawa
16-Bauchi
16-Katsina
14-Kano
10-FCT
10-Rivers
9-Kwara
5-Delta
5-Kaduna
4-Sokoto
4-Oyo
3-Kebbi
3-Nasarawa
3-Osun
2-Ondo
1-Ebonyi
1-Edo
1-Enugu
1-Anambra
1-Plateau
1-Niger
4971 cases of #COVID19 in Nigeria
Discharged: 1070
Deaths: 164
Nigeria confirms 184 new cases of COVID19 with a total of 164 death