Nigerian News
COVID-19: Nigeria records 239 new cases as Lagos, Bauchi and Kano lead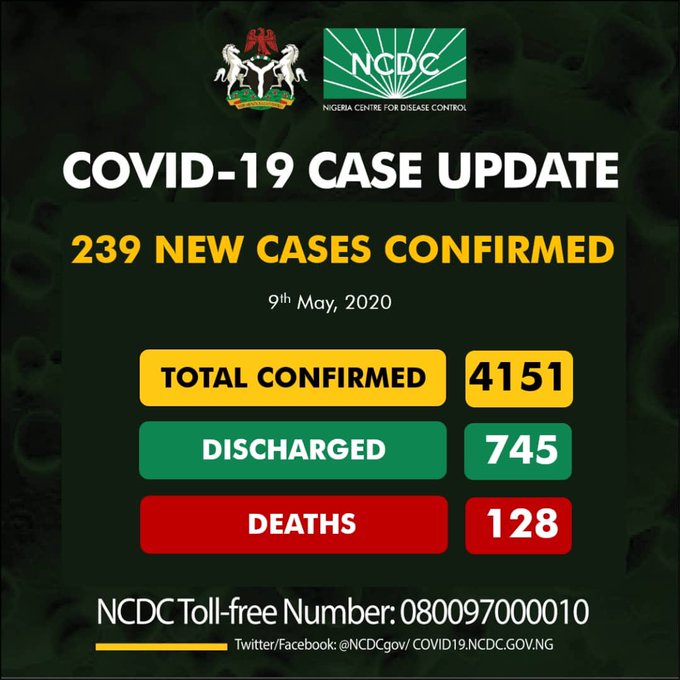 COVID-19: Nigeria records 239 new cases as Lagos, Bauchi and Kano lead
As the Coronavirus continues on the rise in Nigeria, 239 new cases confirmed by Nigeria Center For Disease Control, NCDC at about 11:12pm Saturday night.
In the new report of 239 cases, Lagos state tops the chart with 97 cases to bring a total of 1764 cases in the state. It was dually followed by Bauchi which has 44 cases and a total of 161 then Kano state with 29 and that brings its figures to 576 in total.
Others were; Kastina -19, Borno – 17, Abuja – 7, Kwara – 6, Oyo – 5, Kaduna and Sokoto – 3 each, Adamawa, Kebbi, Ogoun and Plateau – 2 cases respectively and Ekiti – I case.
The new confirmed cases Saturday night has brought the total number of cases to 4151. And 745 cases were discharged and 128 persons has died of the disease.
Below is the figures confirmed by Nigeria Center For Disease Control;
239 new cases of #COVID19;
97-Lagos
44-Bauchi
29-Kano
19-Katsina
17-Borno
7-FCT
6-Kwara
5-Oyo
3-Kaduna
3-Sokoto
2-Adamawa
2-Kebbi
2-Plateau
2-Ogun
1-Ekiti
4151 cases of #COVID19 in Nigeria
Discharged: 745
Deaths: 128
COVID-19: Nigeria records 239 new cases as Lagos, Bauchi and Kano lead
The chart below shows the total figure so far in Nigeria.