Nigerian News
COVID-19: Nigeria confirms 248 new cases, as Lagos, Jigawa hit the top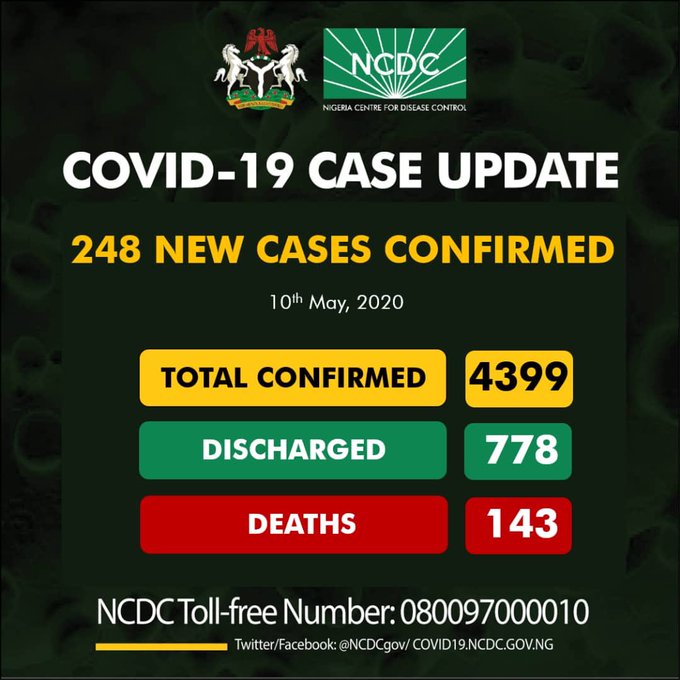 COVID-19: Nigeria confirms 248 new cases, as Lagos, Jigawa hit the top
Today's Coronavirus Update: Nigeria Center For Disease Control NCDC has confirmed 248 new cases of COVID-19 bringing the total figure to 4399; Discharged 778 persons and 143 cases of death.
In the new confirmed cases, Lagos still at the top with 1845 additional of 81 new cases as reported yesterday.
Jigawa, Borno, Kano and Bauchi states followed with 35, 26, 26, and 20 cases respectively.
Publishing this report, the NCDC through their Twitter page apologizes for an error made in their earlier report.
It reads;
On the 9th on May, we announced 45 discharged cases & 4 deaths in FCT

Due to system error, 32 discharged cases and 2 deaths were wrongly announced

Therefore, FCT recorded 13 discharged cases & 2 deaths on May 9 2020

We apologise to @OfficialFCTA for this error
Bayelsa state once again added one case to their previous 5 cases, now six cases in total. No information yet to ascertain level recuperation in the isolation center at Okolobiri.
Below is the chart posted by NCDC as at 11:45pm Sunday night.
248 new cases of #COVID19;
81-Lagos
35-Jigawa
26-Borno
26-Kano
20-Bauchi
13-FCT
12-Edo
10-Sokoto
7-Zamfara
4-Kwara
4-Kebbi
2-Gombe
2-Taraba
2-Ogun
2-Ekiti
1-Osun
1-Bayelsa
4399 cases of #COVID19 in Nigeria
Discharged: 778
Deaths: 143